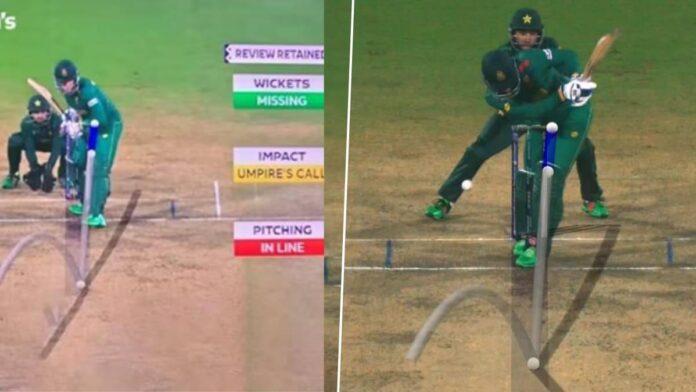 The International Cricket Council (ICC) found itself at the center of a heated controversy following a contentious LBW decision involving Rassie van der Dussen during the Pakistan vs South Africa game world cup match in Chennai. Umpire Paul Reiffel adjudged the South African batter out in the 19th over, a decision that sparked an uproar. What unfolded during the Decision Review System (DRS) process led to an unexpected turn of events, leaving cricket fans bewildered and demanding answers.
Pakistan vs South Africa: A DRS Debacle Unfolds
Rassie van der Dussen's LBW dismissal during the match triggered a sequence of events that raised questions about the reliability of DRS technology. Initially, it appeared that the delivery from Pakistan's leg-spinner, Usama Mir, might have missed the leg stump, but Umpire Reiffel thought otherwise and ruled in favor of Pakistan. In response, van der Dussen opted for DRS, setting the stage for an unexpected twist.
The DRS ball-tracking initially displayed two conflicting outcomes. The first suggested that the ball would miss the leg stump, while the second indicated that it would clip the stump. Both interpretations featured an 'umpire's call' for impact, creating confusion among players and spectators. Ultimately, the second tracking was deemed final, leading to van der Dussen's dismissal for 21.
ICC's Acknowledgment of the Decision
The screenshots of the divergent ball-tracking replays quickly circulated on social media, prompting calls for transparency and clarification. The ICC swiftly responded, acknowledging that the initial graphic was displayed 'erroneously' during the LBW review of Rassie van der Dussen. The ICC spokesperson confirmed that the accurate graphic was subsequently presented, ultimately resulting in the correct decision.
However, this wasn't the only DRS-related incident during the match. In a crucial moment, Pakistan's Haris Rauf's delivery that trapped South Africa's last batsman, Tabraiz Shamsi, was called 'not out' by Umpire Alax Wharf. Pakistan's review revealed that the ball would have clipped the stumps, but the 'umpire's call' verdict disappointed the Pakistani team. The decision proved to be pivotal, as South Africa secured a one-wicket victory, positioning them atop the table, while Pakistan faced a precarious situation in the tournament.
Also read: Harbhajan Singh Criticizes DRS and Umpiring Decisions as Pakistan Suffers Narrow Defeat to South Africa