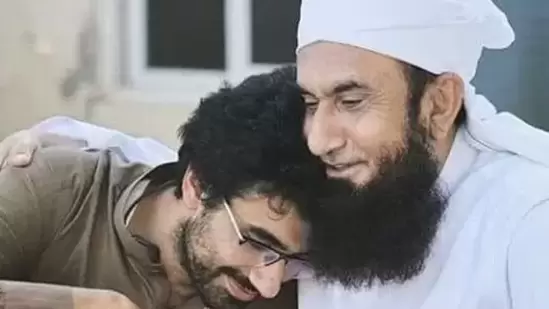 The son of the highly respected religious scholar Maulana Tariq Jamil, Asim Jamil, has taken his own life at their family residence in Talamba, their native town in Punjab. The news of Maulana Tariq Jamil's son passing was shared on X, formerly known as Twitter, by Maulana himself, highlighting the profound sadness that has befallen their family.
انا للہ وانا الیہ راجعون

آج تلمبہ میں میرے بیٹے عاصم جمیل کا انتقال ہوگیا ہے. اس حادثاتی موت نے ماحول کو سوگوار بنا دیا۔ آپ سب سے گزارش ہے کہ اس غم کے موقع پر ہمیں اپنی دعاؤں میں یاد رکھیں. اللہ میرے فرزند کو جنت الفردوس میں اعلیٰ مقام عطا فرمائے۔

— Tariq Jamil (@TariqJamilOFCL) October 29, 2023
Maulana Tariq Jamil's Son Commits Suicide
Asim Jamil's death was later confirmed by Multan's Regional Police Officer (RPO), Captain (retd) Sohail Chaudhry, who stated that CCTV footage revealed the shocking moment of Asim ending his life. The footage captured Maulana Tariq Jamil's son shooting himself in the chest, an act that has left the authorities and his family grappling with immense grief.
In the wake of this distressing incident, the authorities have launched a thorough investigation, and the Punjab Inspector General of Police, Dr. Usman Anwar, has ordered a detailed report to be compiled, including a thorough analysis of evidence and the forensic findings.
Personal Turmoil
RPO Chaudhry disclosed that Asim had been battling mental health issues for several years and was receiving treatment. Tragically, he chose to end his life with a 30-bore pistol, with the disturbing act witnessed by his domestic help, Imran, who desperately tried to prevent the tragedy. Asim's personal life had also seen its share of challenges, as he had previously gone through a divorce after marrying a woman of his choice.
The unexpected passing of Maulana Tariq Jamil's son evoked a profound sense of grief and mourning that resonated throughout the nation. People from various walks of life came forward to offer their condolences and support to the grieving family during this trying time. Caretaker Prime Minister Anwaar-ul-Haq Kakar expressed his profound sadness and sorrow upon learning of Asim Jameel's demise.
National Assembly Speaker Raja Pervaiz Ashraf conveyed his heartfelt sympathy and unity with Maulana Tariq Jamil's family in the wake of Asim's tragic and accidental passing. He offered prayers for the departed soul, saying, "May Allah provide comfort and strength to Jamil and his family as they navigate this challenging period."
Also read: Rawalpindi Man Commits Suicide Amidst Harassment by Loan Apps