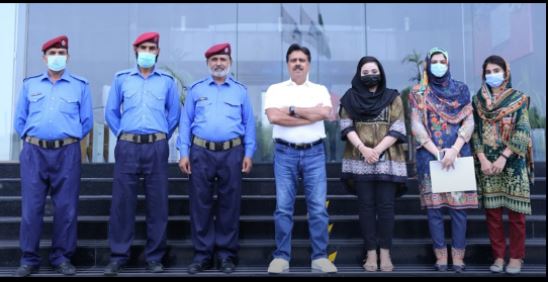 Recently, a picture of a private corporation, NetSol has been circulating on social media, in which the CEO is standing beside the company's security guards and their daughters. It has been reported that NetSol has offered these girls the positions of their developers and other white-collar jobs.
Furthermore, the CEO of NetSol is a humanitarian, who awarded scholarships to these three girls. He wanted to spend on their education for the sake of his underprivileged employees. He then hired these girls in his company. The daughters of these security guards are very talented girls, and performed really well in their learning and studies and were able to deserve a job with the CEO's organization without any hassle. 
Read more: Facebook inaugurates financial education initiative for women-led businesses in Pakistan
Gaining Education Is the Right of Every Child
The CEO helped these girls gain education through the NETSOL Education Program (NESP), which is designed to provide education support to all "lower cadre employees in order to ensure that all children gain the best attainable education."
Thus, this is an amazing opportunity for all underprivileged employees to have their children excel in the same company and get soulfully content in the same premises to enjoy their workload.
Read more: Fantom takes the first step to rebuild Pakistan's Educational System using blockchain technology
NetSol Education Support Program (NESP)
"Three ambitious daughters…three compassionate fathers…", said the company's CEO. As a result, these young women are now developers with a bright future ahead of them. He established that, "The NetSol Education Support Program (NESP) is designed to provide education support to our lower cadre employees in order to ensure that all children receive the best possible education."
You may also like: Education Ministry introduces initiative of blended e-learning