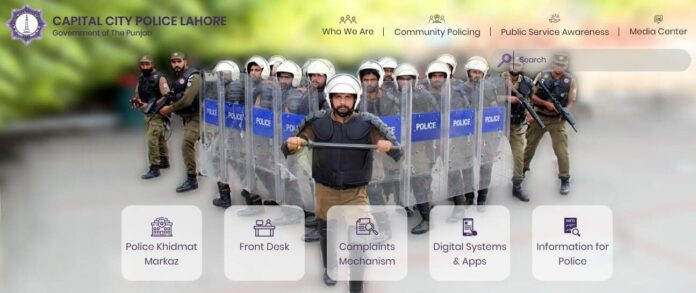 On Wednesday, the Capital City Police Officer (CCPO), Ghulam Mahmood Dogar launched the first-ever official website of the Lahore Police. SSP Discipline Mubasher Makan, SDPO North Cantt ASP Bushra Nisar, other superior police officials, and media persons were also present on this occasion.
The CCPO, Dogar notified media persons that the user-friendly and one-pager layout-based website of Lahore police is on a par with the international criteria with unparalleled features and is backed by a robust anti-hacking Drupal CMS mechanism.
Read more: Tasdeeq, an initiative of Sindh Police to conduct criminal background check raises privacy concerns
The Website Also Facilitates Differently-Abled Citizens
The official website (lahorepolice.gov.pk) further has a functional disability mode to facilitate differently-abled citizens, Dogar continued. Speaking of the inauguration ceremony, CCPO Lahore stated that the website of the Lahore Police includes all the information and guidelines for citizens related to various services being given by Lahore Police.
These services include district policing, public service guidelines, digital operations and applications, police facilitation stations, front desks, complaints mechanism, and the details of all the senior police officers and their contact numbers.
Read more: IG Police inaugurates fully automated Complaints Redressal System in Peshawar
The Website will have Regular Postings Concerning the Lahore Police
In addition to this, it will also routinely issue seniority lists, promotion orders, exams and interview plans, standing orders, and orders affecting general members of any cadre of the police.
Although the inauguration of the official website is a praiseworthy move by Lahore Police, the website only comprises information of all arms of the department and lacks a critical functionality of modern citizen-centric policing which is online FIR registration.
Read more: Islamabad police inaugurates "E-Police Desk" to facilitate citizens
Source: Express Tribune