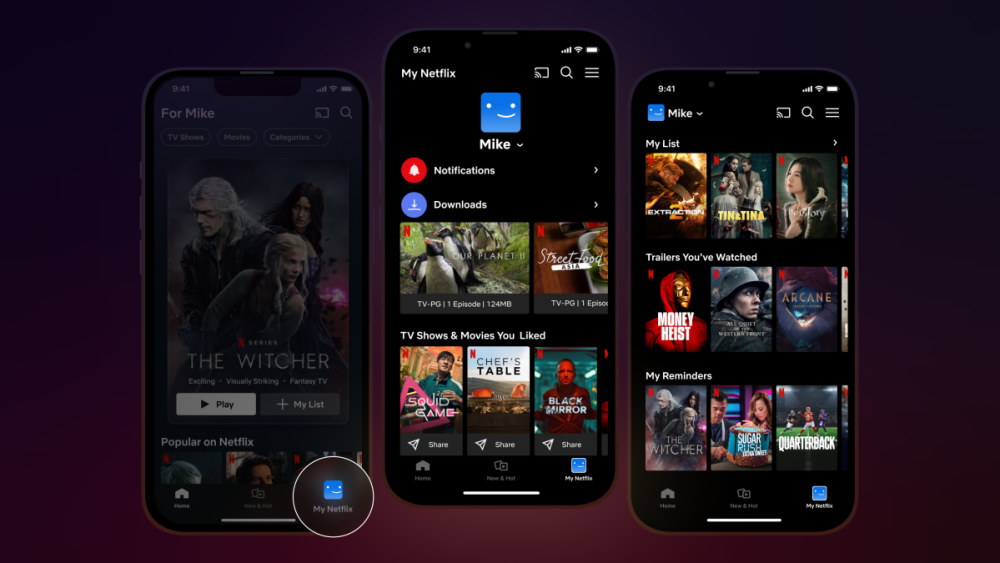 Netflix, the leading streaming service, is enhancing its user interface to provide a more convenient and efficient viewing experience. The company is rolling out a new feature called the "My Netflix" tab on iOS (and Android in early August) that gathers all your in-progress shows, downloads, and other content in one place. This new addition will streamline navigation and make it easier for users to access the titles they want to watch.
My Netflix Tab – Your Personalized Hub
With the introduction of the "My Netflix" tab, the struggle of searching through multiple screens and tabs to find the show you had in mind will be a thing of the past. This new tab consolidates all your ongoing and planned viewing activities into one convenient location. Alongside in-progress videos and downloads, the tab will display My List items, notifications, shows with viewed trailers, and other bookmarked content. By centralizing your personalized content, the My Netflix tab offers an easier way to access your favorite shows without remembering how you came across them.
Netflix emphasizes that the tab's functionality will expand as users engage more with the platform. Interacting with content, such as leaving likes or adding titles to your viewing queue, will contribute to enriching the tab's recommendations. This tailored approach enhances user satisfaction and ensures that viewers have easy access to the content they love. Furthermore, by identifying popular shows based on more than just viewing counts, Netflix can make more informed decisions about its content library.
Enhancing User Retention and Engagement
The introduction of the My Netflix tab not only acknowledges the need to simplify the front-end interface but also serves as a strategic move to retain and engage users. Netflix recognizes that a cluttered interface may lead to frustration and potentially discourage users from staying subscribed. The platform aims to foster loyalty and make subscribers more likely to continue their memberships by providing a dedicated space for personalized content.
Netflix's recent crackdown on password sharing has resulted in a surge of subscriptions from customers who previously used borrowed accounts. While this feature played a part in boosting user numbers, the company understands that continued growth depends on delivering a seamless viewing experience. The My Netflix tab contributes to this goal by ensuring that users can easily access the content they want, which may entice new customers to stay with Netflix instead of exploring rival services like Amazon Prime.
Also read: Netflix Launches Interactive Site for Black Mirror Season 6