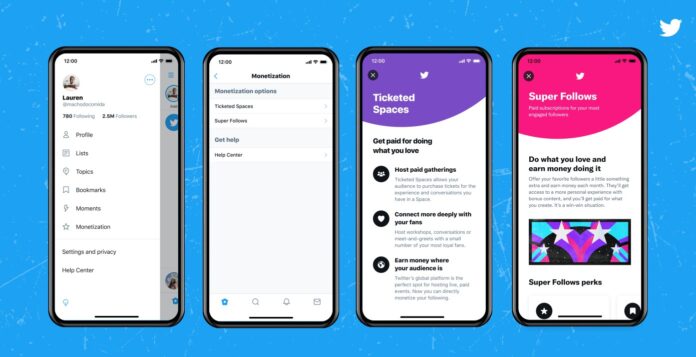 The famous microblogging platform, Twitter has announced that it will start rolling out applications for Super Follows and Ticketed Spaces, providing creators an early shot at joining in the first group of testers for the features.
The company first made the announcement of Super Follows and Ticketed Spaces earlier this year. Super Follows will allow the users to form a "direct relationship with their most committed followers" and make monthly revenue. Pricing possibilities here include $2.99, $4.99, and $9.99 per month.
Read more: Twitter soon to roll out 'Super Follows' feature for users with 10K followers
Furthermore, the new Ticketed Spaces feature will be an expansion at a bigger scale of the Spaces audio rooms platform. With Ticketed Spaces, users will be able to create a "unique and exclusive" audio experience by charging for tickets. 
Initially, the test group participants will keep 97 percent of the money they make with Ticketed Spaces or Super Follows, after the fee that iOS and Android charge for in-app purchases. However, Twitter will increase its share from 3 percent to 20 percent if a user earns a total of $50,000 on both systems. 
Read more: Twitter launches a premium subscription service called 'Twitter Blue'
Moreover, Senior Product Manager, Esther Crawford tweeted, "we want to ensure that emerging voices can earn money, which is why they'll be eligible to earn a larger share starting out. … Earning $50K+ from Super Follows and Ticketed Spaces shows that you're getting value from these features and that they're helping you make real ."
In addition, applications to use Super Follows and Ticketed Spaces are only accessible on mobile and for people in the U.S. Presently, only iOS users can apply for Super Follows, but Ticketed Spaces applications are available on both iOS and Android. Along with it, the company is also adding a brand new Monetization button to the sidebar in the app, where users can navigate to see if they're qualified to apply to be part of the test groups for these features. 
Source: Mashable