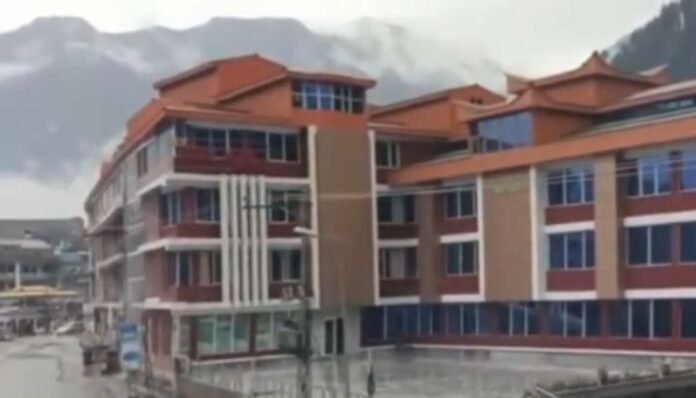 A famous hotel, Honeymoon Hotel, in KPK's Kalam valley was swept away by flash flooding in the region. The footage that surfaced on the internet shows the honeymoon hotel collapsing in the river as the flood water sweeps it away. The flash flooding in Swat has destroyed homes, bridges, mosques, and multiple areas of KPK in one of the worst flooding calamities.
Iconic New Honeymoon Hotel in Kalam completely destroyed due to rains and flash floods. Unprecedented rains caused havoc across the country with Balochistan, Sindh and South Punjab worst affected. pic.twitter.com/nOPtw7mEaG

— Azhar Abbas (@AzharAbbas3) August 26, 2022
Honeymoon Hotel was Timely Evacuated
The management of Honeymoon Hotel had timely cleared the premises hence resulting in no casualties. The hotel was known for its luxury style and services which were recently renovated. The Khyber Pakhtunkhwa government has declared an emergency in Swat that will be in effect until 30th August due to the scale of devastation caused by the flooding. The federal minister for climate change, Sherry Rehman, said that Pakistan is going through its 8th cycle of monsoon; normally the country has only three to four cycles of [monsoon] rain.
Meanwhile, a National Highway Authority (NHA) alert has been issued for tourists in the towns of Bahrain and Kalam in Swat asking them to avoid unnecessary travel. The alert said that the Bahrain-Kalam section of the N-95 and N-90 highways have been severely damaged by the downpour. Moreover, Chief Minister KP, Mahmood Khan, has issued directives to the Provincial Disaster Management Authority (PDMA) for timely relief operations and providing grocery, cooked food, and other commodities to the flood victims.
Flash Flooding in Pakistan
The government has declared the floods a "national emergency" after nearly 1,000 people died and more than 30 million people are rendered homeless. According to media reports, two of the worst-hit provinces, Balochistan and Sindh, have received 298mm and 689mm of rain respectively this year, which is about 400 percent more than the 30-year average. Meanwhile, in Khyber Pakhtunkhwa, nearly 200 people have been killed, particularly in the worst-hit areas of Swat and Dir.
Also read: Heavy Rain Spell Claims At Least 4 Lives in Karachi