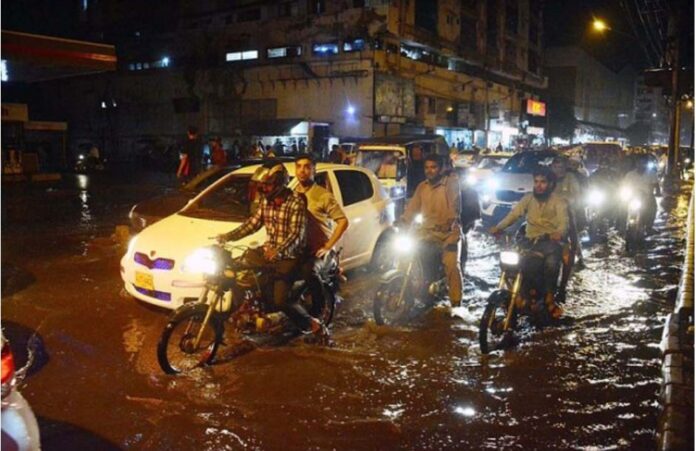 On Wednesday, three people including a child died in an incident caused by the heavy rain in Karachi. According to the Meteorological Department, light to heavy rains has started falling in different parts of Karachi during the pre-monsoon season. The Karachi Municipal Corporation and Karachi Development Authority imposed a rain emergency in the institutions while also canceling the staff leave. 
KMC Has Instructed its Staff to Remain Alert During Heavy Rain Sessions
Furthermore, KMC and have instructed the staff to remain alert during heavy rain sessions in Karachi which include cleaning drains. While 250 feeders of the city have tripped and power supply was also suspended in Surjani, Shadman, Buffer Zone, Paposh, North Nazimabad, Korangi, Landhi, Saddar, Lanzaria, Sultanabad, Kemari, Lyari, Orangi Town, Banaras, Old Golimar, Nia Golimar, and Site Waheedabad.
According to a recent report, a woman was electrocuted in a house near Qatar turn of Orangi Town while a 3-year-old child was injured when a wall collapsed near Gulistan-e-Johar Kamran Chowrangi. According to officials, a tree fell on Mai Kulachi Road due to heavy rains but no casualties were reported. The provincial director general of health is ensuring the availability of doctors in hospitals all over Karachi and Hyderabad division, the health department spokesperson said.
K-Electric is Also Advising Karachi Residents to be Careful This Monsoon Season
Meanwhile, the power supplying company K-Electric has advised the residents of the city to be extra careful during heavy rain durations to avoid a safety hazard. It is advised to the residents to be careful when using electrical appliances. The company also suggested public to maintain a safe distance from broken wires, TV and internet cables, electric poles, and PMTs. 
It also said that power to low-lying areas of the city could be temporarily disconnected due to water inundation. "K-Electric is monitoring the situation and the field staff is on high alert," a power utility spokesperson said, adding that residents can contact the electricity company via the call center, on 118, or its social media platform.
Read more: Murree Administration Develops a Plan to Manage Tourist Influx on Eid-ul-Fitr