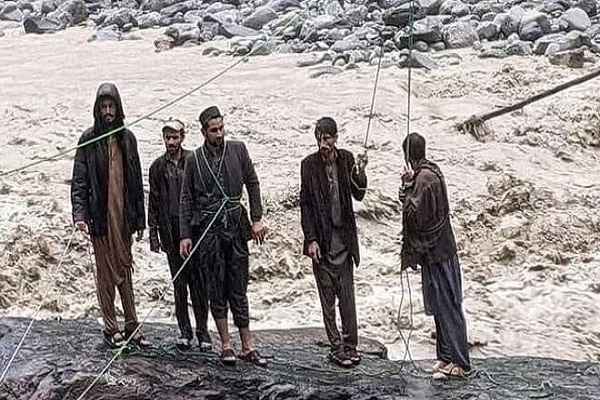 Four out of five friends lost their lives to the ill-fated flood that engulfed the Swat Valley. The victims climbed on a rock to save themselves after being surrounded by heavy flooding, where they helplessly waited for help to arrive before they gave in to the high pressure of flood water.
Kohistan: After waiting for help, Four friends swept away by floods#FloodsInPakistan #Nowshera #Kohistan pic.twitter.com/DDdsgb3lOP

— ASFE World TV (@asfeworld_tv) August 27, 2022
Four Friends Lost their Lives to Heavy Flooding
According to the locals, five friends climbed to the top of the rock in order to protect themselves from heavy flooding while they helplessly waited there but no one came. The video of five friends is doing rounds on social media where people are questioning the authorities regarding their role in the recent catastrophe.
The locals tried to save the five friends from the heavy flooding but they only managed to save one of the victims while the other four were drowned in the flood water. The locals also claimed that one out of four bodies is also recovered from the Kohistan valley. They also said that a helicopter could have arrived from Peshawar or Gilgit in an hour if the administration wanted but nothing if such happened.
Statement from Deputy Commissioner Kohistan
Meanwhile, the deputy commissioner of Kohistan refuted the claims of locals saying that it is difficult to provide rescue in the given condition. A letter issued by the deputy commissioner said; "The social media posts that are stating that for 5 hours, district administration and provincial government did not do anything are patently false. Local elders and leaders across the board have acknowledged that the rescue was extremely difficult in the given conditions. Despite earnest efforts of our Rescue Teams, the unfortunate incident could not be averted in an unprecedented situation."


Also read: Pakistan Likely to Face More Internet Outages Due to Floods