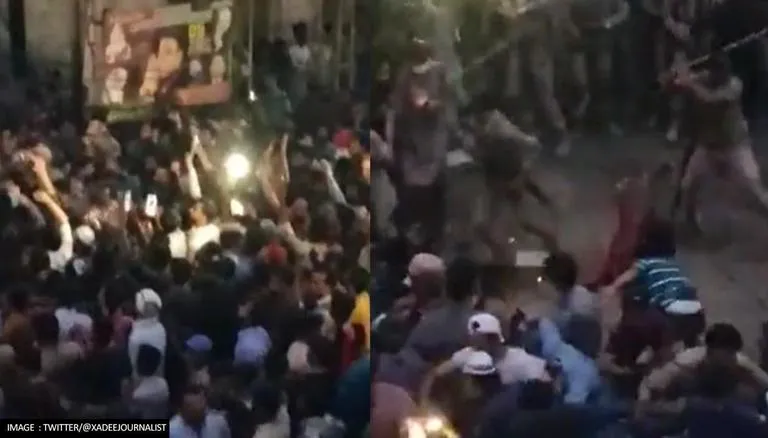 A Hindu sanitation worker, Ashok Kumar, from Hyderabad has been booked under the 295B of blasphemy law over the alleged desecration of the Quran. The complaint was reportedly lodged by a local resident, Bilal Abbasi, after his brawl with the sanitation worker. A journalist, Munashhir Zaidi, said in a tweet; "Hyderabad police dispersed a violent mob which was demanding handing over a Hindu sanitary worker accusing him of #blasphemy Police claims the sanitary worker was targeted because of a personal clash with a local resident."
Hyderabad police dispersed a violent mob which was demanding handing over a Hindu sanitary worker accusing him of #blasphemy Police claims the sanitary worker was targeted because of a personal clash with a local resident pic.twitter.com/CnSFLNLqhH

— Mubashir Zaidi (@Xadeejournalist) August 21, 2022
Crowd Demamded Police to Handover Ashok Kumar
The news of blasphemy spread like a wildfire and a huge number of people gathered outside Ashok Kumar's house where police came to arrest him. As per local media, the crowd demanded the police hand over Ashok to them however the law enforcement agencies present on the ground resorted to baton charges and tear gas shelling to disperse the crowd.
The Hyderabad police have reportedly claimed that the Hindu worker was targeted because of a personal clash with the local resident as the allegation of blasphemy came after a brawl between Kumar and Abbasi following which the latter lodged a complaint. The video shared by the journalist shows police dispersing the mob that gathered around the apartment building to get hold of the sanitary worker.
The Misuse of Blasphemy Laws in Pakistan
The misuse of blasphemy laws is rampant in Pakistan where we can see a recent case of Srilankan factory manager, Priyantha Kumara, who was set ablaze by an angry mob in Sialkot. The deceased was accused of tearing down a poster with Islamic verses from the premises of the factory. The anti-terrorism court of Pakistan has sentenced six men to death and nine others to life in prison for lynching the Sri Lankan factory manager.
Also read: Protest Erupts at Saddar Mobile Market over Alleged Blasphemy