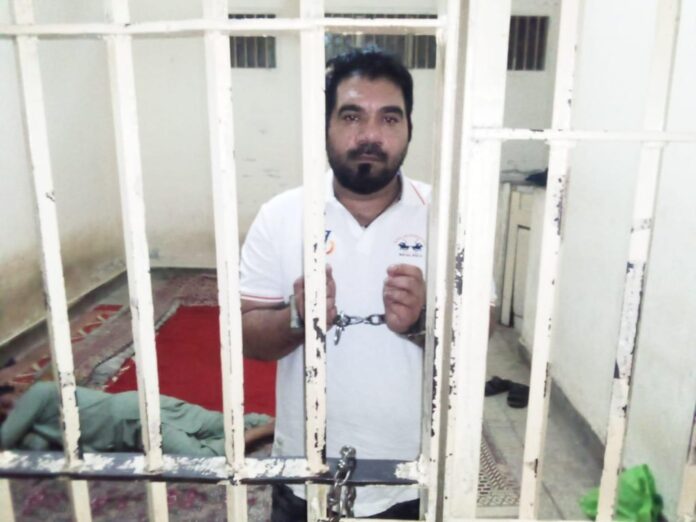 A YouTuber from Gujranwala has been arrested after a video of him harassing women went viral on social media. The said YouTuber who has more than 323,000 subscribers on his YouTube channel, was arrested by the police after a short video entailing his supposed prank made rounds on Twitter. 
The action has been taken following the issue was highlighted by the women on social media platform as well as formal charges were pressed by Hassan Butt, a resident of Noshehra Road (Gujranwala), with police.
As per the complainant, suspect Muhammad Ali Ansari of Mohallah Shah Salman [who manages his YouTube channel] was located by him while allegedly performing 'vulgar' actions with women by pulling their Hijabs in front of a regional college whereas three of his unnamed accomplices were involved in shooting videos.
Read more: Rabia Naz of Khairpur managed to build her own house from her YouTube's income
???????? ???????

(TikToker / Youtuber who harraseed women in Gujranwala and Lahore)

Arrested & FIR registered.
Well done @rpogujranwala @SarfrazFalki. pic.twitter.com/GZRlTV8jLl

— Azhar Mashwani (@MashwaniAzhar) June 17, 2021
Hassan's statement informs that when he tried to stop the suspect from doing so, he pulled out a revolver and along with his associates also threatened him with dreadful consequences and flung abuses.
One of the social media users, Sadaf Alvi, tagged Amna Baig, Sub Divisional Police Officer in Islamabad to take due action against the YouTuber. It was then declared that Ali has been taken into custody by CPO Gujranwala.
The supposed humorous video has more than 9 million views on YouTube. "This man has been harassing Pakistani women on roads and public places, for not wearing a headscarf. He has been doing it for months and then he posts their videos on the internet without their knowledge or consent. He is doing this to enforce Islam," Alvi pointed out.
A representative for Gujranwala police reported that the suspect and his three unidentified accomplices were arrested under sections 354, 506 (B), 294, and 34 of PPC. He told CPO Sarfraz Falki had taken notice of the prank videos and instructed Gujranwala Saddar SP Abdul Wahab to take action against the suspect. He said the suspect had been hurled behind bars by female police constables intended to teach him a lesson to respect females.
Source: Mashable Pakistan