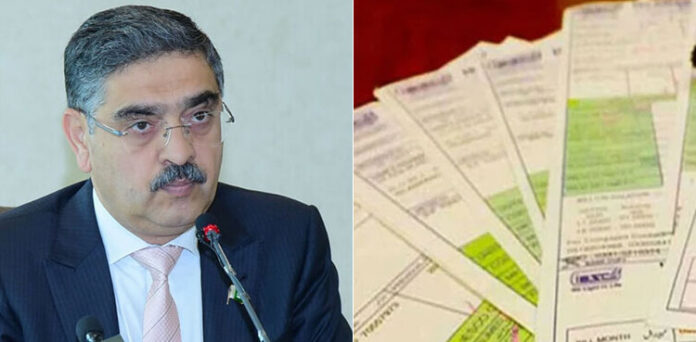 Caretaker Prime Minister Anwaar-ul-Haq Kakar has said that the government is on the cusp of announcing relief measures for electricity consumers. Acknowledging the mounting concerns surrounding high electricity costs, the prime minister addressed the issue's root causes, focusing on agreements with independent power producers (IPPs) and transmission and distribution (T&T) losses. As anticipation builds for the impending relief, PM Kakar's statements might come as a sigh of relief for people looking to alleviate the burden of soaring electricity bills.
Core Challenges Contributing to Increased Electricity Bills 
In his interaction with senior journalists in Islamabad, PM Kakar emphasized that the elevated cost of electricity is primarily attributed to contractual agreements with independent power producers (IPPs) and the losses incurred during transmission and distribution (T&T) processes. By delving into the structural issues behind rising electricity bills, the prime minister signals a commitment to tackling these challenges at their roots, with a view to bringing meaningful relief to the consumers who have long grappled with high expenses.
Balancing International Commitments and Local Needs
While refraining from mentioning the International Monetary Fund (IMF) directly, PM Kakar indicated that the government is actively engaged in discussions with relevant multilateral financial institutions to explore avenues for potential relief in electricity costs. The prime minister underscored the importance of striking a balance between providing relief to the populace and honoring international commitments. By reiterating the government's intent to announce relief measures that align with its international obligations, PM Kakar highlights the careful navigation required to address the issue comprehensively.
The recent wave of protests across the country in response to inflated electricity bills underscores the urgency of the matter. In response, PM Kakar convened an emergency meeting to deliberate on potential relief measures, although no immediate actions were taken at that time. Addressing concerns over the protests, the prime minister downplayed the situation's law and order implications, attributing the unrest to the influence of political parties. As the government's plans for relief in electricity bills take shape, citizens await the forthcoming announcement that could potentially alleviate a significant financial burden for households and businesses alike.
Also read: Finance Ministry Rules Out Relief Amid Rising Electricity Costs