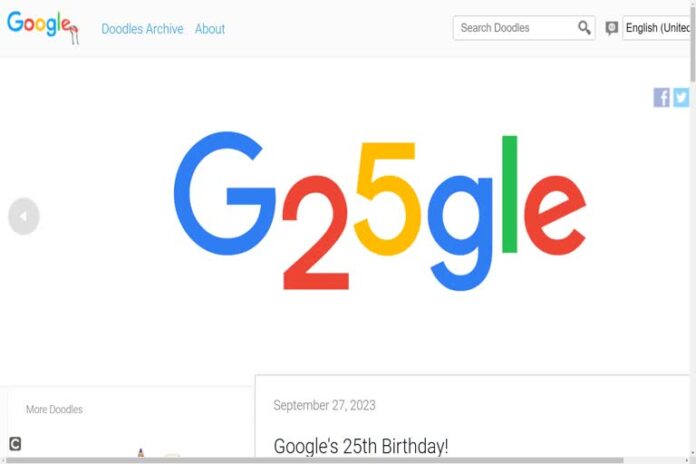 Google Doodle commemorates Google's 25th birthday today with a special Doodle. The search engine is perpetually focused on the future but birthdays provide an opportunity for reflection. Today, billions of people across the globe rely on Google to search, connect, work, play and for many more things; this doodle will be visible across the globe except for a few regions including Russia.
A Journey from Dorm Rooms to Google's First Garage Office
Sergey Brin and Larry Page, who were pursuing their doctoral studies at Stanford University in the late 1990s, crossed paths and discovered a shared vision: to improve the accessibility of the World Wide Web. They both worked tirelessly from their dormitories, creating a prototype for an improved search engine. As their project advanced, they relocated to Google's inaugural office, a rented garage, and officially established Google Inc. on September 27, 1998.
Since that momentous day in 1998, much has evolved, including Google's logo, as exemplified by today's Doodle. Nevertheless, their unwavering mission remains constant that is to organize the world's information and ensure its universal accessibility and usefulness.
Google's 25th Birthday: Honoring Creative Talent in Doodles
The most recent Doodle, unveiled on September 25, paid tribute to Todd Matshikiza, a distinguished South African jazz pianist, composer, and journalist. Illustrated by South African guest artist Keith Vlahakis, the Doodle celebrated Matshikiza's commissioned cantata "Uxolo" (which means "peace"), performed by the orchestra during the 70th Johannesburg Festival on September 25, 1956.
Matshikiza, acclaimed for his skills as a composer, is particularly renowned for his composition "Quickly in Love," featured in the 2013 film "Mandela: Long Walk to Freedom." Additionally, he composed the musical scores for two noteworthy theatrical productions: "King Kong" and "Mkhumbane." "King Kong," an all-Black jazz musical that premiered in 1958, achieved remarkable success, even extending its reach to London. "Mkhumbane" (1960), featuring compositions by Matshikiza and Alan Paton, garnered similar acclaim.
Also read: Tragic Google Maps Incident Sparks Lawsuit as Man Dies Following App's Directions