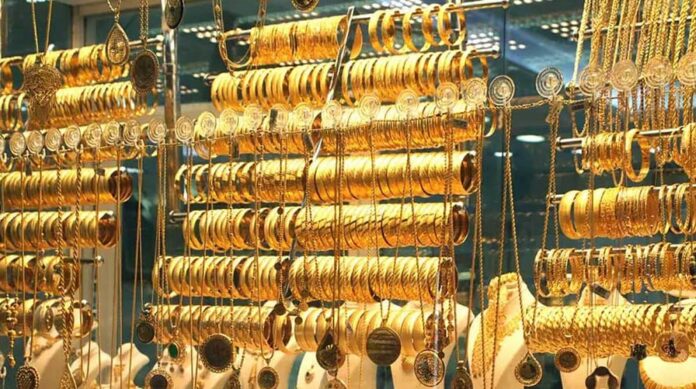 Gold has registered the highest single-day gain in the domestic market as the Pakistani rupee saw yet another dramatic fall in just over a month, plummeting 6.66% against the US dollar during yesterday's trading. As per details, the price of gold in Pakistan (24 carats) has increased by Rs9,400 per tola and Rs8,058 per 10 grams to reach Rs206,500 and Rs177,040, respectively.
Gold Price Increases in Pakistan While Decreases in the International Market
The price of gold in Pakistan remains attached to the dollar rate as the country is a net importer of gold. It should be noted that gold's international price per ounce dropped by one dollar to $1.836, but, it is still increasing in Pakistan due to the worst-performing Pakistani rupee. So, if the rupee stabilizes, the gold price will come down following the trajectory of its price in the international market
The international market has fallen more than 6% so far this month after strong economic data boosted expectations of more rate hikes by the U.S. central bank. Carlo Alberto De Casa, an external analyst at Kinesis Money, said that gold is having a negative month as the market is expecting interest rates to remain higher for longer. "If inflation continues to rise, then gold might fall to the $1,730-$1,740 range," he added.
KCCI Urges SBP to Play its Role
The Karachi Chamber of Commerce and Industry (KCCI) has asked the State Bank to play its role and devise an effective strategy to bring the value of the dollar down. He said that the rising dollar against the rupee would keep on creating numerous problems for the economy, as it is already facing a lot of challenges. "Due to lack of effective price control mechanism, an abnormal upsurge has been witnessed in the prices of almost all the commodities of household usage which have to be controlled to ease the already overburdened and miserable life of the inflation stricken common man," reads the statement.
Also read: Gold Prices Soars to All-time High of Rs 204,100/tola After Rupee Tumbles to a New Low