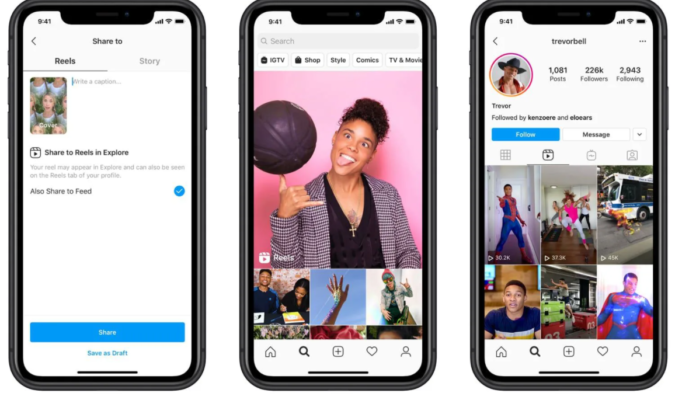 Facebook began testing Instagram Reels ads in India, Brazil, Germany, and Australia back in April. The company is now finally launching ads globally on its TikTok clone Instagram Reels, as announced by the company on Thursday.
Tests of this feature were run with well-known brands such as BMW, Louis Vuitton, Netflix, and Uber. "We see Reels as a great way for people to discover new content on Instagram, and so ads are a natural fit," stated Instagram's Chief Operating Officer, Justin Osofsky. "Brands of all sizes can take advantage of this new creative format in an environment where people are already being entertained."
Read more: Facebook to launch its own 'Podcast' publishing platform next week
Facebook said that Reels ads, which will loop and can be up to 30 seconds long, will develop between specific Reels. Facebook said Wednesday it will start testing publications inside its virtual reality Oculus headsets in collaboration with numerous game developers, including Resolution Games.
Read more: Instagram plans to change its algorithm after the alleged censoring of pro-Palestinian content
Furthermore, the small-scale test of VR advertisements is a connection between the social media firm's chief revenue line of trading digital advertisement and its increasing financing to create virtual reality devices as the next tech frontier after the smartphone.
Read more: Instagram's new features now offer 'Extra Cash' for creators who stream more
In addition, the company also announced that it will utilize the test to explore methods to assist developers to earn profits on the Oculus platform. Advertisements will start to appear in Blaston, an action e-sport developed by Resolution, and in other Oculus games over the upcoming weeks. Facebook continued that Oculus users will be equipped to hide particular advertisements or decide not to view advertisements from a particular advertiser.
Source: Tribune
Image Source: Mashable