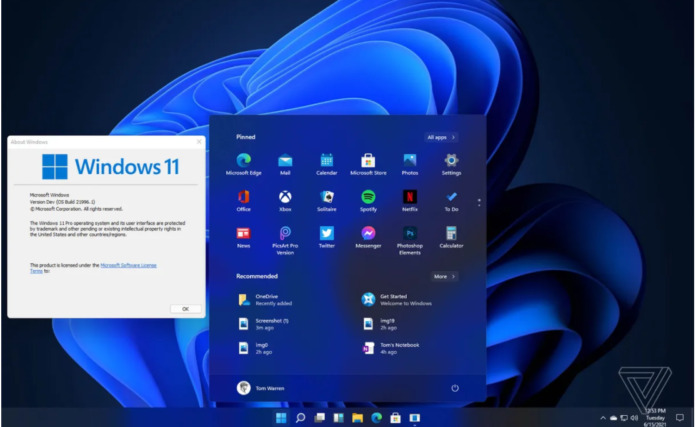 Microsoft's upcoming Windows 11 operating system surprise reveal, scheduled for June 24 was ruined when screenshots of the next version of the software appeared on China's Baidu website on June 15. Moments after the said leaked pictures, the entire Windows 11 OS had surfaced online, complete with a new user interface, Start menu, and lots more.
Furthermore, the new Windows 11 user interface and Start menu appear very similar to what was previously observed in Windows 10X. Microsoft had been simplifying Windows for dual-screen gadgets, before dropping this project in support of Windows 11.
Read more: Microsoft to end support for Windows 10 by October 2025
Appearance-wise, the most prominent differences you'll notice can be seen along the taskbar. Microsoft has centered the app symbols here, cleared up the tray space, and incorporated a new Start button and menu. The Microsoft Store does not appear to have any updates yet. That may be because this is an immediate build of Windows 11.
here's a first look at Windows 11. There's a new Start menu, rounded corners, a new startup sound, and more https://t.co/VDS08QPsl5 pic.twitter.com/OkCyX3TtmI

— Tom Warren (@tomwarren) June 15, 2021
The company is inducing innovative visual and core upgrades to Microsoft Store because back at the Build 2021 conference, Microsoft CEO Satya Nadella emphasized the subsequent generation will concentrate on developers. Therefore, the Microsoft Store on Windows 11 seems and operates exactly how it does on Windows 10. However, we may see Google Chrome and other successful apps obtainable through the Microsoft Store soon.
Read more: Microsoft employees had to sleep in data centers during pandemic to ensure operations run smoothly
In addition, the tech giant is also introducing an enhanced Xbox experience to Windows 11. The new Xbox app is integrated into Windows 11, allowing prompt access to Xbox Game Pass games, the social elements of the Xbox network, and the Xbox Store. The Xbox Game Bar and Windows Game Mode all stay the same as Windows 10, at least in the initial version that has been leaked.
Image Source: The Verge