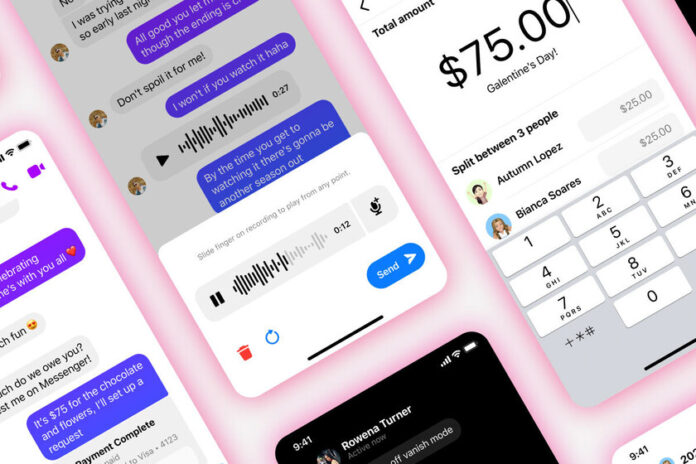 Meta Rolls out new voice message recording controls to its Messenger app. The company announced in the blog post that it has increased the duration of voice messages – from 1 minute – to 30 minutes.
Read more: Facebook Messenger Upgrades its End-to-end Encrypted Chat Feature
The voice message recording controls
Apart from increasing the voice message limit messenger has also added voice message recording controls, that will let users preview or pause a message before sending it to other users and they will also have an option to delete the recording or continue recording it if they wish.
The screenshots shared by Meta show that the controls for voice message recording will appear as a soundbar illustration. The pause and resume recording controls will be placed on the left and right sides of the soundbar, respectively. Whereas, the delete and send buttons will be placed below the soundbar illustration.
Split Payments and vanish Mode
The Meta-owned Facebook has also announced two new features – Split Payments and Vanish Mode – along with voice message controls. The Split Payments will enable the users to distribute the bill evenly among the group members. While the messages sent in the vanish Mode will disappear after the receiver has viewed them. To enable the vanish mode you have to open an existing chat thread on your mobile device and swipe up. In the vanish mode, users can also send disappearing memes, GIFs, stickers, and reactions in the vanish mode.
Read more: Meta Tests Built-In Bill Splitting Feature, Split Payments in Facebook Messenger
The Messenger Kids is also getting in on the Valentine's Day celebration with new artwork and interactive features to help kids join the celebrations. There are also new frames and Valentine's Day stickers for Messenger Kids, enabling parents and kids to enjoy the day to its fullest.
Source: Meta Blogpost