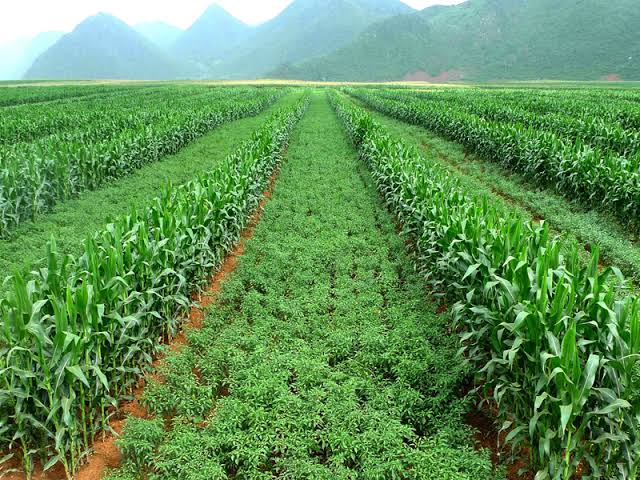 China-Pakistan cooperation in the seed is high on spirits as the CPEC enters the second phase to work on agricultural cooperation and other sectors of social welfare, according to a report published by China Economic Net (CEN). Chinese intercropping technology is used to boost the agricultural sector of Pakistan. The technology involves growing multiple types of vegetables on the same land, in the same growing season.
Maize-Soyabean strips harvested in Pakistan using the Chinese intercropping technology
Maize-soybean strip intercropping technology, an advanced agricultural technology introduced by China's Sichuan Agricultural University is yielding successful results – the yields of maize and soybean reached 7065 kg/ha and 1167 kg/ha, respectively.
Under the intercropping procedure, farmers can harvest soybean without reducing the current cultivation area of maize to stimulate local soybean production and then increase the supply of edible oil and soybean meal for poultry and livestock. With intercropping technology yielding results, a large number of farmers have started to learn this technology.
According to Muhammad Ali Raza from Sichuan Agricultural University; "We have planned to arrange two training sessions for two days each. Every training is prepared for 25 to 30 farmers. In this way, they can better grasp the technology to achieve bumper harvests." 
Read more: PakStockPhoto join hands with CPEC to attract investment and tourism in Pakistan
Pakistan, China universities develop hybrid rice varieties
Several universities of Punjab and Wuhan are collaborating to develop high-yield hybrid rice varieties with the latest technologies like; AI, big data, 5G and remote sensing to boost Pakistani rice exports.
In 2019, the Wuhan University and the University of Punjab established an alliance to jointly develop Honglian hybrid rice in Pakistan. In the past two years, Honglian hybrid rice achieved promising productions in six demonstrative plots in; Lahore, Gujranwala, Vehari, Pakpattan in Punjab and Shikarpur and Larkana in Sindh.
Dr Gu Wenliang, Agricultural Commissioner at the Chinese Embassy in Pakistan said; "The CPEC will also help introduce more advanced agricultural production factors in Pakistan. Pakistan's economy is export-oriented and the majority of the exports are agricultural products. We'd like to promote value-added processing to help more Pakistani products up to the international standards, entering more markets globally." 
Source: Tech Juice