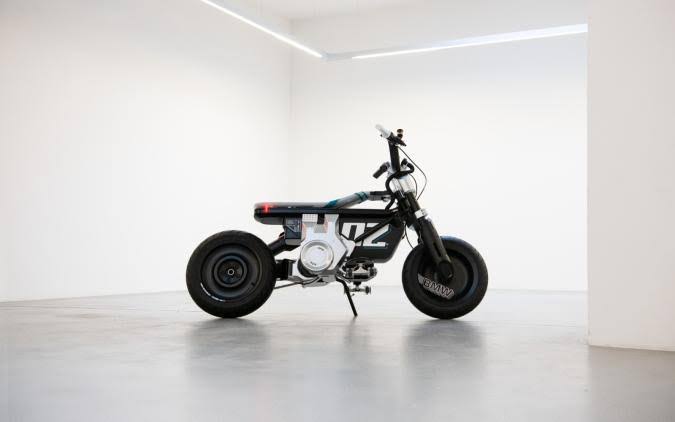 The BMW's Motorrad division unveiled the Concept CE 02 electric mini-bike with design innovation. The vehicle is neither a scooter nor a motorcycle, instead, it incorporates a little bit of both. The BMW mini-electric bike will make its formal debut at IAA Mobility Show next week and the company will look into producing this bike if the brand receives the right amount of positive reviews.
Specifications of the BMW Mini-Electric Bike (CE-02)
It's just a two-wheeled vehicle that is aimed at the future of mobility and targets its market towards Generation Z. The CE 02 has an 11kW belt-drive motor, which can help the bike reach a top speed of around 90 kilometres per hour. BMW claims that the CE 02 can go about 90 kilometres on full charging.
The design can be modified as per the needs and wants of the rider. The person riding the vehicle can also have a laid-back experience with their feet stretched forward, the design also carries space for co-riders. The rear light comprises two small, translucent LED leaves that are fixed to the left and right of the rear seat. A small colour screen on the handlebars provides basic display functions.
Alexander Buchan, head of vehicle design, BMW Motorrad, said, "We wanted to develop an easily accessible two-wheeler for everyone who wants to be mobile and independent. There are stickers, tapes and other forms of customisation that make it quite clear to everyone that it belongs to you. It embodies youthful freedom and a carefree spirit – rather like a skateboard on two wheels."
Read more: Huawei engineer develops an autonomous self-driving bicycle
BMW CE-04 is under production
After revealing the concept scooter in November 2020, the CE-04. The company is going through its production and the new CE 04 will officially be a part of its 2022 lineup.
The CE 04 has a maximum output of 42 horsepower and a maximum speed of 75 miles per hour. It can be charged in under two hours and the riders can choose; ECO mode, rain mode, road mode or dynamic mode to make driving smooth and efficient.