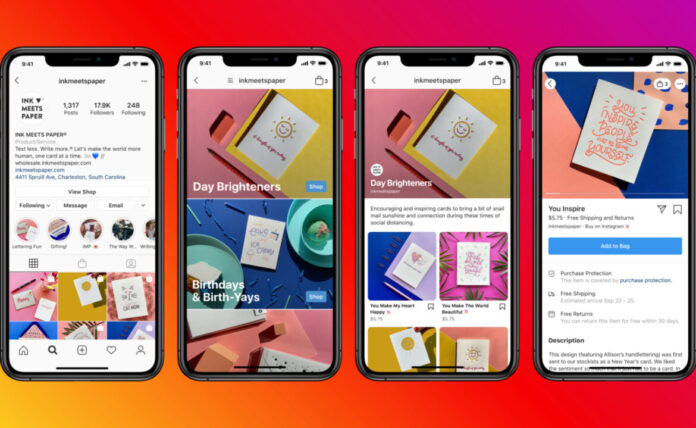 The picture and video sharing social media platform, Instagram has announced the rollout of ads on Shop tab worldwide, launching in countries where Shop Tab has already been in service. The purpose is to gain more advertisement bills from labels expecting to reach new clients. The worldwide launch enables labels to showcase their merchandise to a larger audience who are already in a mood to browse for online shopping.
Instagram Already Has Adverts on Reels, Stories, Feed, and Posts
This indicates Instagram's newest update in the ever-evolving and growing social commerce expanse. The Facebook-owned app already has adverts growing on Reels, Stories, individual feeds, or recommended posts. 
Moreover, Instagram Shop is a photo and video sharing app tab that enables users to window-shop items like apparel and beauty products, and allow them to purchase directly through the application.
Read more: Instagram to Shut Down Swipe-Up Link Feature, Replacing it with Link Sticker
Instagram had launched Shops last year as part of Facebook's larger shift towards the e-commerce ecosystem. Instagram Shops tab appears on the app's lower navigation bar and is more easily accessible than the button to upload a new photo/video.
Users Can Also Create a Wishlist on the Instagram Shop Tab
Presently, the items on Shops appear in a two-column framework of square tiles. Ads on Shop tab will appear as a tile within this structure; however, they will be labeled "Sponsored" in the bottom-left corner of the picture. When the ad on Shop tab is clicked, it will open the Product Details page, which displays more details about the item, extra images, and other products from the label. Furthermore, users can also save a product from an ad to their wish list or send it to a friend — if the ad is improper, they can tap and hold its tile to see options to hide or report the ad.
Moreover, Instagram had previously also incorporated purchasing in Reels, a literal competition to TikTok, organize product Drops into their Shop section, and appended subsidiary features for content creators to earn a share on purchases of sponsored items.
In addition to this, the company had tested Shops ads with U.S. promoters such as Away, Donny Davy, Boo Oh, Clare paint, JNJ Gifts, DEUX and Fenty Beauty. These ads on Shop tab will begin with an auction-based design and only appear on mobile since Shops isn't obtainable on desktop. A user's experience with these ads will rely on how they practice Instagram and how many people are buying from the Instagram Shop tab.