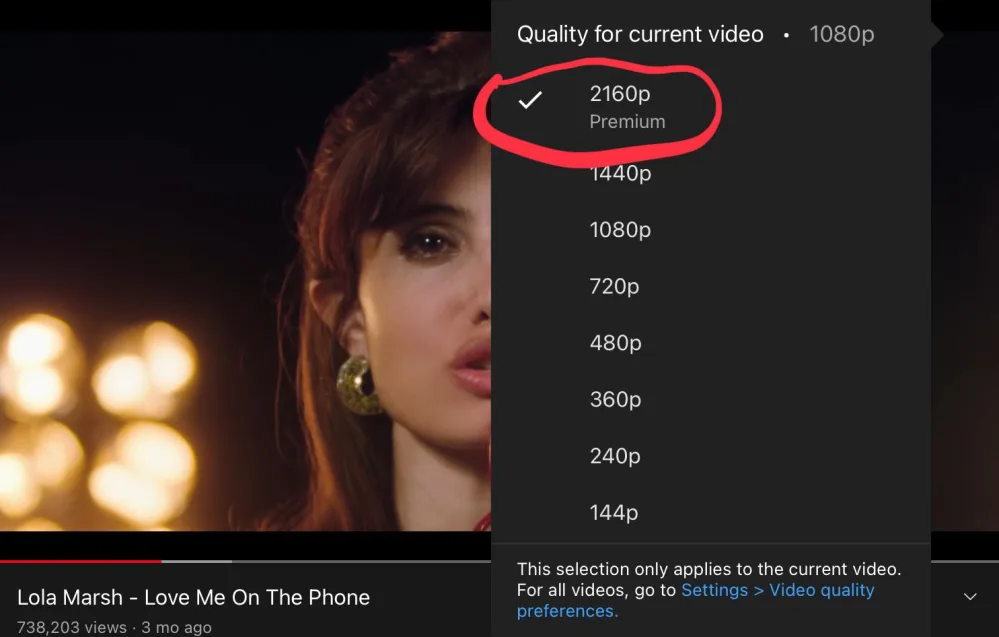 In the last few days, many threads have appeared on Twitter and Reddit where users were seen posting about a new strategy being devised by YouTube. The users wrote that YouTube is asking them to upgrade to a premium membership in order to watch the 4K videos. A Twitter user wrote; "After testing up to 12 ads on YouTube for non-Premium users, now some users reported that they also have to get a Premium account just to watch videos in 4K."
So, after testing up to 12 ads on YouTube for non-Premium users, now some users reported that they also have to get a Premium account just to watch videos in 4K. pic.twitter.com/jJodoAxeDp

— Alvin (@sondesix) October 1, 2022
4K Video Option Showing Premium Label
According to the screenshot posted by a social media user the 4K video option (2160p) carries a "Premium" label beneath it, which means that it might be limited to paying users in the future. YouTube has not commented anything or released any statement in this regard however the users are infuriated over the new changes being made to YouTube's platform such as watching five ads instead of two.
It should be noted that YouTube Premium is capped at $11.99 per month in the US which offers ad-free streaming and many other features. YouTube's move to start blocking off services from the un-paid version might cause a huge backlash as 2.6 billion people use the basic unpaid version of YouTube while only 50 million pay for the Premium.
The Perks of YouTube Premium
YouTube Premium is a paid plan of the video-streaming platform that offers multiple benefits to the users, such as:
1. No Ads
It saves a significant amount of time, especially when you are a frequent YouTube user.
2. Built-in downloads
Smart Downloads will automatically download clips that YouTube thinks you will like based on your recommendations.
3. YouTube Music
YouTube Music, which ordinarily prices at $10 a year, is included with YouTube Premium.
4. Background Listening
With a Premium subscription, you can switch to another app and the audio will continue playing in the background.
Also read: YouTube Tests Video Downloads for Premium Subscriber's Desktop Web Browsers