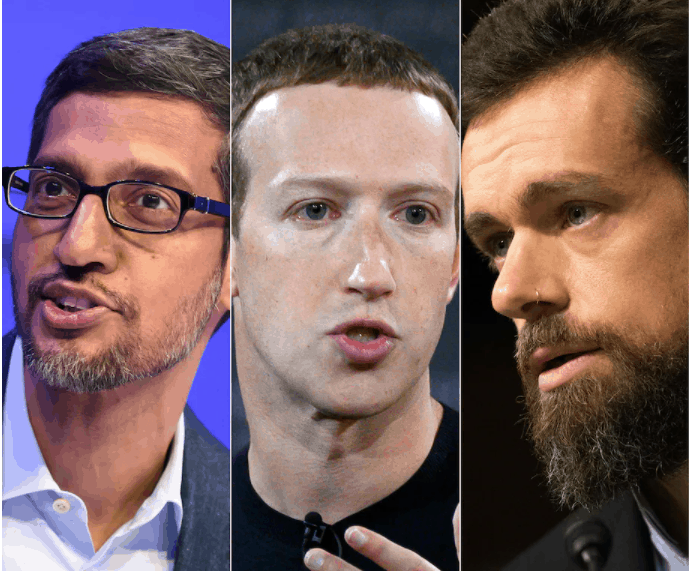 The CEOs of tech titans Facebook, Twitter, and Google suffered an interrogation in Congress on Thursday. As US lawmakers attempted to induce them into accepting their firms' roles in feeding the January insurrection at the U.S. Capitol and increasing COVID-19 vaccine misinformation.
In response to this, only the CEO of Twitter Inc, Jack Dorsey answered "yes" to the question but stated that the "broader ecosystem" had to be considered in this account. Sundar Pichai, the CEO of Google parent Alphabet Inc, replied that the firm always considers a sense of accountability, but it was a complicated question.
Whereas, the CEO of Facebook Inc, Mark Zuckerberg spoke that his company was accountable for creating "effective systems". He further stated that the rebels and former President Donald Trump should be held responsible.
"We fled as a mob desecrated the Capitol, the House floor, and our democratic process," said Democratic Representative Mike Doyle, who questioned the CEOs about their responsibility. "That attack, and the movement that motivated it, started and was nourished on your platforms," he added.
Read more: Facebook is planning to launch 3 new Projects in Pakistan
The hearing was conducted virtually, but advocacy group SumOfUs established cut-outs of the three CEOs costumed as January 6, 2021 rebels on the National Mall near the Capitol. One showcased Zuckerberg as the "QAnon Shaman," a shirtless rebel wearing horns.
Moreover, in the collective hearing, hosted by two subcommittees of the House Energy and Commerce Committee, lawmakers also asked the CEOs on the escalation of COVID-19 and vaccine false information and voiced out concerns regarding the influence of social media on children, which included questions about Facebook's intention to build a version of Instagram for youngsters.
The Democratic representative Frank Pallone, chair of the Energy and Commerce Committee, stated in the hearing that the business model of social media platforms has become the issue itself and that the self-regulation is over for the tech giants. It's time for the government to legislate and hold the companies accountable. 
Further, in the hearing the CEO of Twitter, Jack Dorsey appeared to become frustrated and tweeted "?" with a poll requesting the Twitter users to vote "yes" or "no." As a result, there were more than 40,000 votes cast in a matter of 30 minutes.
Source: Reuters