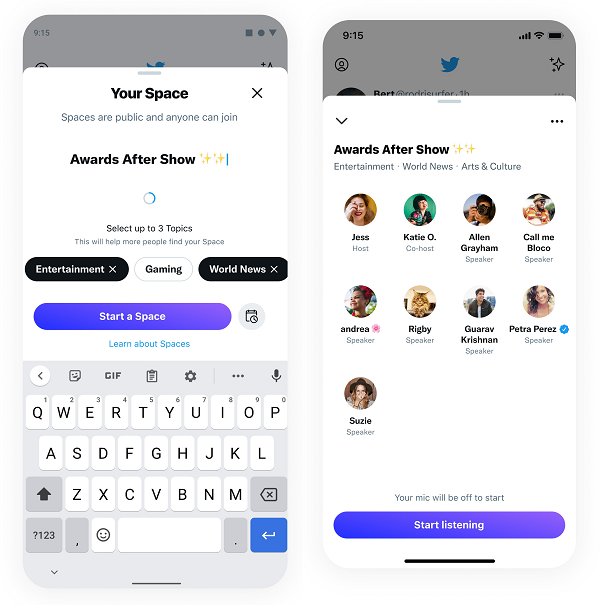 Popular microblogging app, Twitter has now rolled out a live test of Topics in Spaces, which will better facilitate the platform to bring up the relevant Spaces chats to curious users as they happen, potentially expanding the reach of users' audio broadcasts. 
Using Twitter Topics in Spaces Users Can Discover Like-Minded People
Moreover, as the title suggests, these Twitter labels are pre-defined tags the users can utilize to help like-minded individuals find audio rooms. People can add up to three Topics to a Space. Furthermore, at launch, the latest Twitter feature is somewhat limited. 
The latest feature is only available to selected Android users, there are only 10 total Topics to choose from and Topics only work in English. However, Twitter announced iOS support is coming soon, and that it will increase the number of available Topics "as we build together." 
new in Spaces: Topics!

when creating or scheduling a Space, some of you on Android can choose up to 3 Topics to tag it with from a list of our top 10 Topics. BUT it's only 10 Topics for now and we'll expand as we build together

English only (also for now!), iOS soon pic.twitter.com/6PfbZtwWMH

— Spaces (@TwitterSpaces) September 24, 2021
Initially There Are 10 Topics to Choose From
Moreover, the initial 10 Topics of Twitter Topics in Spaces include Business & Finance, Music, Sports, Technology, Gaming, World News, Entertainment, Arts & Culture, Home & Family, and Careers — align with the ones that presently exist across Twitter, which people can choose to follow to get related content on their timelines. 
Including this latest feature brings Twitter even closer to how Clubhouse operates, with different subjects to explore and clubs to join based around those tags. One of the plus points of using Twitter is finding people who share your potential niche interests, so it makes sense to add at least some of its Topics to Spaces. 
Read more: Twitter Soon to Launch the Tips Feature to Enable Bitcoin Tipping