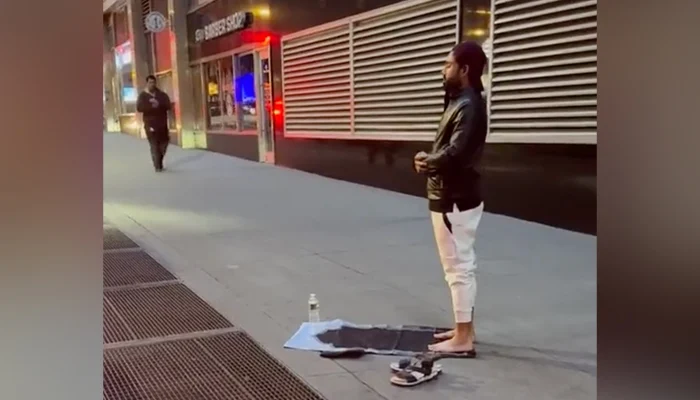 A recent incident that has sparked controversy on Twitter involved Pakistani star keeper-batsman Muhammad Rizwan when he was found praying on the street of New York. Twitter was quick to react when the video was shared on the social media platform attracting different types of views from cricket fans worldwide.
Muhammad Rizwan's Viral Video Trigger Debate
The viral video features Muhammad Rizwan praying on a roadside in New York while he was filmed by a cameraman. As soon as the video went up, people started questioning the necessity of praying on a public street, given the availability of mosques and multi-faith rooms. The video was initially shared by sports journalist Farid Khan, who wrote; "Mohammad Rizwan stopped his car and offered namaz on the street in the US."
MashaAllah Muhammad Rizwan❤️pic.twitter.com/2WVrV0hBCu

— Ehtisham Siddique (@iMShami_) June 5, 2023
While some fans appreciated Rizwan's act, others criticized his move and started questioning his faith labeling it as a publicity stunt. Rizwan has not yet responded to the huge social media uproar, but his fans are constantly supporting him during this time. The star Pakistani batsman is currently in the US to attend the Harvard Business School's program alongside some prominent sports personalities like Kaka, Gerard Pique, Chris Paul, and Paul Gasol, to name a few.
Few Reactions from Social Media
Journalist Reham Khan said that there are multi-faith rooms everywhere. "Never have I or my family, both in the US or UK, ever had to pray on the street," she added. "All these mosques in NY, yet this is the only street corner where Rizwan could stop and get himself filmed while praying!" a user exclaimed, sharing a map of the mosques in the area. Another user highlighted the proximity of a nearby mosque. They tweeted, "The mosque is five minutes away from where he is standing but… well, you're smart."
There are multi faith rooms like everywhere. Never have I or my family both in the US or UK ever had to pray on the street. https://t.co/U2SRq6HIq0

— Reham Khan (@RehamKhan1) June 6, 2023
Also read: Asia Cup 2022: Fans All Praise Mohammad Rizwan as his Video of Reciting Quran Goes Viral