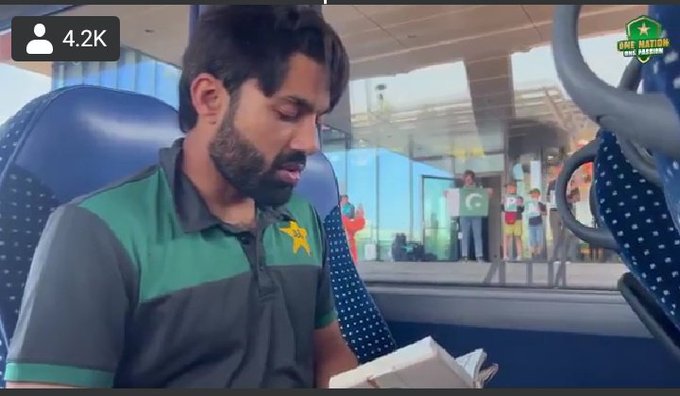 Pakistan wicketkeeper-batter Mohammad Rizwan never fails to amaze his fans with his on-field and off-field skills. Rizwan is one of the most loved cricketers in Pakistan and he created this impact majorly in the T20World Cup when he played semifinal against Australia, even after spending two nights in the Intensive Care Unit battling a severe chest infection. Recently, his video went viral on the internet where he was seen reciting Quran on a bus after touching down in Dubai.
Netizens Praised Mohammad Rizwan for his Commitment
The Pakistan Cricket Board (PCB) shared a video as the team landed in Dubai. The video shows the players busy in different kinds of activities while traveling on a bus, however, Rizwan was seen reciting the Quran. The moment got ultimate attention as soon as the video surfaced on the internet and netizens broke the internet by praising the dedicated cricketer for showing his staunch commitment. As rightfully pointed out by a user, who listed down the major finds from the video; "Thing that everyone notice. 1- Rizwan is reciting Quran. 2- Haris is watching Shaheen's edits on TikTok in his free time. 3- Pakistan team got a new Professor after Hafeez.. He is Professor Shahdab.."
🛫 Amsterdam to Dubai 🛬

The travel diary of the Pakistan team 🧳#AsiaCup2022 | #BackTheBoysInGreen pic.twitter.com/GfrFKYhdbM

— Pakistan Cricket (@TheRealPCB) August 23, 2022
Likewise, Mohammad Rizwan was seen reciting Quranic verses while playing against Australia in the semis. Although the team lost the match Rizwan's selfless commitment to the nation became the highlight and he garnered a lot of praise not only from Pakistan but from other international media outlets and veteran cricketers as well. Cricket Australia also shared an article on Rkzwan's superhero skills of playing a cricket match after being terribly sick.
Reactions from Twitter
Here are some of the best reactions from Twitter:
Mohammad Rizwan reciting the Holy Quran on his way from Amsterdam to Dubai. Ma Shaa Allah ♥️#AsiaCup2022 pic.twitter.com/o9FslXRk7X

— Farid Khan 🇵🇰🇹🇷 (@_FaridKhan) August 23, 2022
Simplicity + humble + Down to Earth = Mohammad Rizwan 🤍@iMRizwanPak #AsiaCup pic.twitter.com/MLME2m6u50

— 𝔸 𝕊 𝔸 𝔻 /🇵🇰✨ (@Definitely_56_) August 23, 2022
MUHAMMED RIZWANS READING QURAN 😭😭 Mashallah.

— Haniya Pathanya🇵🇰 (@HaniyaPTI2023) August 23, 2022
Thing that every one notice …
1- Rizwan is reciting Quran..
2- Haris is watching Shaheen's edits on tiktok in his free time…
3- Pakistan team got a new Professor after Hafeez.. He is Professor Shahdab..
💚💚 pic.twitter.com/103tSTeT4N

— Mahwish Zahra (@MahwishZahra12) August 23, 2022
It is pertinent to mention here that Pakistan is set to face the arch-rivals India in the Asia Cup 2022 on 28th August. The last meeting between the two teams was during the T20I World Cup 2021 when Pakistan registered a 10-wicket victory chasing a target of 151.
Also read: Babar Azam, Jehan Ara, and Asif Peer Receive Civilian Honors from President Arif Alvi