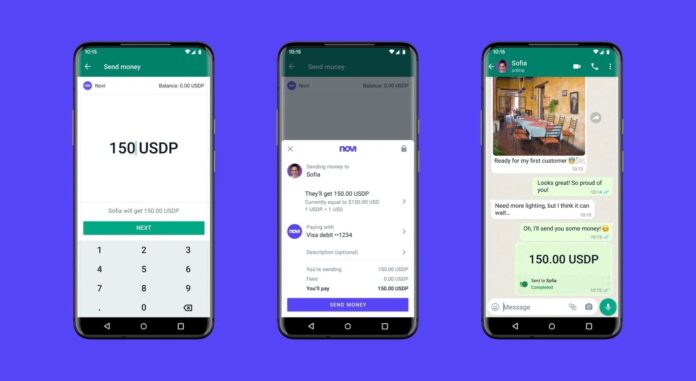 WhatsApp US users in a limited ratio will now be able to send and receive money using Meta's digital wallet, Novi, as announced by the company on Wednesday. The latest feature comes after Meta rolled out Novi as a pilot product in October, accessible as a mobile app in most U.S. states and Guatemala.
Incoming Novi Head Stephane Kasriel said this is a crucial next step in Novi's early days. "We usually hear that people use WhatsApp to coordinate sending cash to loved ones, and Novi allows people to do that securely, instantly, and with no fees. Payments will seem directly in people's chat," Kasriel tweeted. Kasriel said Meta's digital wallet Novi will not impact WhatsApp's end-to-end encrypted messages.
The Services of Meta's Digital Wallet Novi Will be Extended to All Meta Apps
The integration of Meta's digital wallet Novi in WhatsApp is expected — Meta's outgoing crypto boss David Marcus announced in October that all the company's monetary products would be unified under the Novi brand. Meta, formerly Facebook, already offers conventional peer-to-peer and e-commerce payments in WhatsApp, its main Facebook app, Messenger, Instagram, and other services.
There's a new way to try the @Novi digital wallet. Starting today, a limited number of people in the US will be able to send and receive money using Novi on @WhatsApp, making sending money to family and friends as easy as sending a message. ?? pic.twitter.com/dGz3lejri7

— Stephane Kasriel (@skasriel) December 8, 2021
The Novi leader announced he was leaving the company last week and called the WhatsApp Novi launch "the best farewell gift from the best farewell team ever!" Meta's crypto measures have shapeshifted immensely in the past couple of years. Novi is a rebrand of Meta's first digital wallet attempt, Calibra. Calibra and Meta's early crypto projects encountered pressure from regulators and a loss of alliances.
Read more: WhatsApp Rolls Out Disappearing Messages and Multiple Durations Features
Initially, Meta was all in on stablecoin Diem (formerly Libra). When Novi launched, Marcus, stated Meta's "support for Diem has not changed." However, the wallet uses USDP instead, a stablecoin from blockchain company Paxos in partnership with Coinbase. 
The Company is Waiting for Feedback to Expand More
As with most stablecoins, USDP is linked to the value of the U.S. dollar, a distinction with digital currencies such as bitcoin whose value will fluctuate significantly. Whereas sending USDP via Novi on WhatsApp has extremely limited accessibility, for now, Kasriel said the service will look to grow its reach after acquiring feedback from users about the experience.
Source: TechCrunch