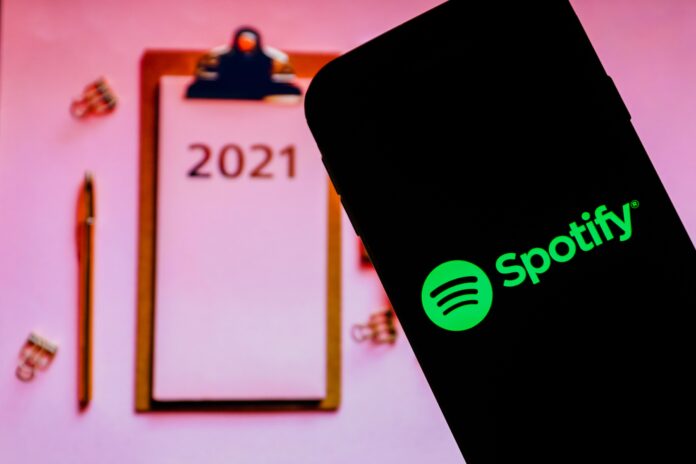 Swedish audio streaming service Spotify has released its year-end round-up, Spotify Wrapped, which covers some of the most-streamed artists and songs in the country. The audio streaming giant revealed some of the most popular local and international singers loved and adored Pakistan.
Read more: YouTube Announces Top Trending List of Videos & Content Creators of Pakistan
Spotify Wrapped: Pakistan's Most Streamed Artists and Tracks 
Spotify Wrapped is more of a year-wrap tradition that covers the annual 2021 personalised experience of listeners. Spotify's Wrapped feature will allow users to view the statistics related to their music listening journey over the past year. Users will be able to view their most streamed songs, most loved artists, favourite albums, podcasts, and more. Here is a list of the most streamed artists and tracks from Pakistan.
Pakistan's Most Streamed Artists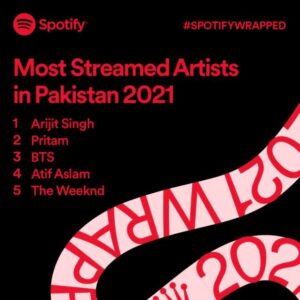 Arijit Singh
Pritam
BTS
Atif Aslam
The Weekend
AP Dhillon
Talha Anjum
Talha Yunus
Tanishk Bagchi
Taylor Swift
Pakistan's Most Streamed Tracks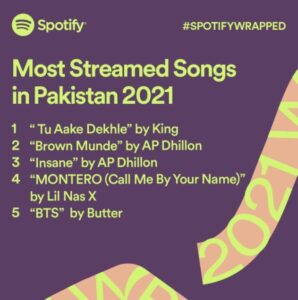 Tu Aake Dekhle' by King
'Brown Munde' by AP Dhillon
'Insane' by AP Dhillon
'MONTERO (Call Me By Your Name)' by Lil Nas X
'Butter' by BTS
'Ghalat Fehmi – From Superstar' by Asim Azhar
'STAY (with Justin Bieber)' by The Kid LAROI
Masked Wolf 'Astronaut In The Ocean' by Masked Wolf
'Gumaan' by Young Stunners
'Afsanay' by Talha Anjum
What the world streamed most in 2021
Puerto Rican Reggaeton star Bad Bunny takes the title of most-streamed artist in the world on Spotify for the second time in a row. The artist received over 9.1 billion streams this year without releasing an album this year. Puerto Rican was followed by the global heartthrob Taylor Swift while the beloved k-pop group, BTS, grabbed third place. Spotify ended the blog post in an emotional bid stating, "Nostalgia played a role in people's listening in 2021 as fans rediscovered old favourites—and new generations adopted them as well. Let's face it: Some certain songs and albums sound like home (in a good way)."
Source: Spotify Newsroom