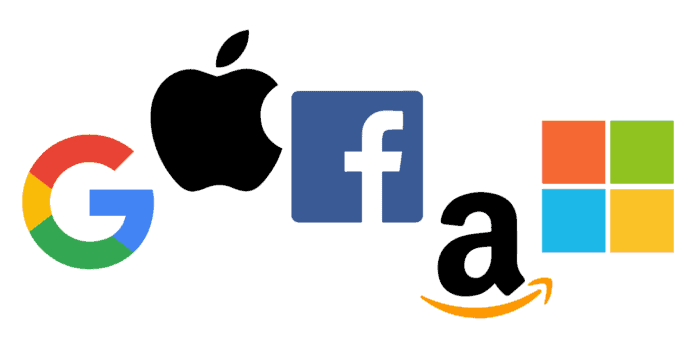 Shares of the leading tech giants, Facebook, Alphabet, and Microsoft each hit all-time highs Monday as investors turned away from cyclical stocks and invested back into growth.
The famous social media platform, Facebook climbed as much as 4%, closing up 3.4%. Alphabet closed up 4.2%, having achieved as much as 4.6%, whereas Microsoft closed up 2.8%. It had surged as much as 3.1%. The gains occurred between more comprehensive market viewpoints, promoted by substantial U.S. job growth the previous month. The tech-heavy Nasdaq Composite also progressed to 1.7%, while the Dow Jones Industrial Average advanced to 373.06 points to an all-time high.
The tech corporations' peers also were raised early Monday. Shares of Apple surged as much as 2.6%, while e-commerce giant Amazon rose to 2.4%. Furthermore, the electric vehicle manufacturer, Tesla, proceeded to jump on production and delivery figures that widely beat expectations. The firm's stock rose as much as 7%.
Read more: US lawmakers grill big tech CEOs over their role in fueling misinformation in the Capitol Riot
Moreover, on Saturday, a member of a low categorized hacking forum issued the phone numbers and private information of 533 million Facebook users, just the newest conflict in a series of disagreements for the social-networking corporation. However, it appears to matter little as no apparent impact can be observed on the company's shares.
In addition to it, Alphabet is also being highlighted in news headlines for the past few days, as the subject of a Justice Department lawsuit as well as two state AG suits, but the shares were not affected and surged 4% to close at $2,218.96. The firm profited, in part, from its victory in the U.S. Supreme Court over Oracle in a copyright conflict over the software employed in Android.
Read more: Supreme Court rules in favor of Google in a copyright fight with Oracle Corp
Facebook's CEO Mark Zuckerberg has become tech's lightning rod for data-collection methods, privacy procedures, and microtargeting of customers. Zuckerberg, Alphabet CEO Sundar Pichai, and Twitter Inc. CEO Jack Dorsey individually endured yet another argument from the House members about the spread of misinformation on their rapidly spreading digital platforms.
Source: CNBC
Image Source: KNOLSKAPE