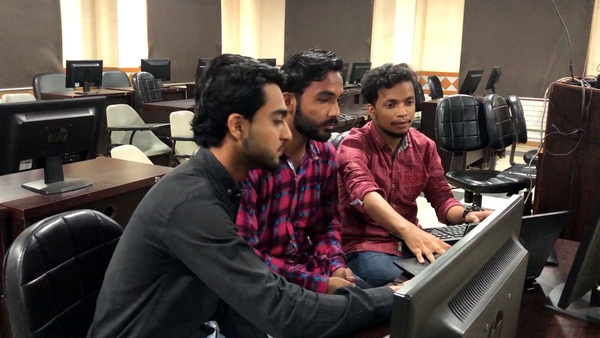 A few students of the Information Technology Department of Benazir Bhutto Shaheed University Lyari in Karachi have come up with an innovative mobile app for the blind which will assist them to walk in public places in their daily life.
According to the students, the mobile application is connected to the blind person's stick and the stick has sensors in it. When a specially abled person starts using the app on his phone and picks up the stick, the sensors in the stick activate and guide the user in different languages ​​about the obstructions ahead.
Moreover, Shehzad Ghulam Mustafa, a member of the team that developed the app called 'eWalk'. "According to statistics, the population of people who cannot see in Pakistan is about one million. These people depend on their families for the basic chores of their daily lives, so we have developed this application to ease their problems, which operates as the eyes of blind people."
Read more: Students from Karachi introduce "triple movement" mind-controlled Prosthetic Arm
Furthermore, another member of the team, Shehzad Munir, stated that this newly developed application is designed in such a way that even close family members of specially-abled can log in and see their location or contact them. According to Shehzad Ghulam Mustafa, this app gives directions to the users in English, Urdu, Punjabi, and Sindhi, and it can be downloaded from the Android and iOS Play Store.
He further mentioned that the total cost of developing this app was around PKR 3000 if the government supports them cause this can bring down the cost to PKR 1000, and make it widely available for everyone to use it.