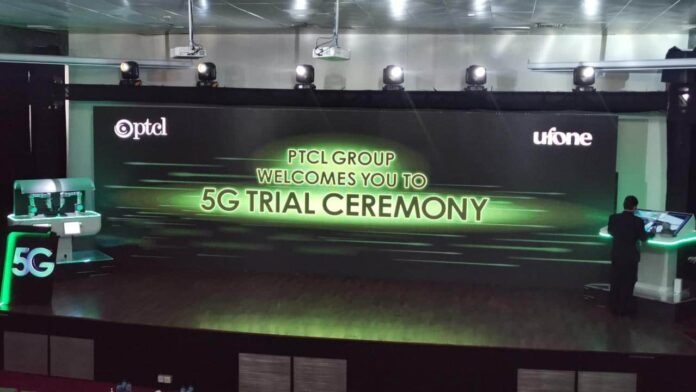 The PTCL Group has hosted the 5G Trial Ceremony in a successful manner, at its headquarters located in Islamabad, today. The ceremony was organized solely for providing a demonstration of the company's 5G network. The trials were conducted in a limited environment based on a non-commercial approach.
The ceremony was attended by all the primary officials of the IT sector listing, Shoaib Ahmad Siddiqui, Federal Secretary IT & Telecom and Chairman Board of Directors, Pakistan Telecommunication Company Limited (PTCL), Major General (R) Amir Azeem Bajwa HI (M), Chairman, Pakistan Telecommunication Authority (PTA), H.E. Hamad Obaid Ibrahimi Alzabbi, UAE Ambassador to Pakistan, along with senior government and PTCL officials and members of PTCL Board.
Read more: Safepay announces raising 7 figure seed funding from Stripe
Moreover, the PTCL Group posted a tweet about the success of the trials, mentioning their focus is on redefining the reality and transforming the lifestyle of the people. 
The event showcased the possible applications that can be attained from the 5G technology. The applications extend from remote surgery, cloud gaming to many more. Furthermore, the company was also able to accomplish the fastest data rate with download speed reaching 1.685 Gbps during the trial.
One of the most popular advantages of 5G is a fast speed surpassing all the previous versions. The speed and low latency of 5G will pave a new path in transforming virtually all industries, ranging from manufacturing to healthcare. The medical sector can avail benefits from a low-latency and high-speed 5G network by obtaining things like 3D imaging, advanced diagnostics, and wireless connections to robotic surgical tools in near-real-time.
Read more: Google shares "online safety tips" on Twitter to have a safer experience online