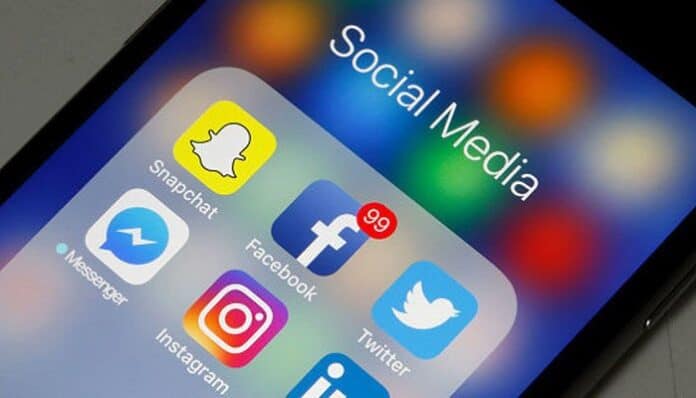 The Ministry of Interior on Friday directed the Pakistan Telecommunication Authority (PTA) to briefly block access to social media platforms — Twitter, Facebook, WhatsApp, YouTube, and Telegram, from 11 am to 3 pm. However, the telecom regulator informed the public, through the means of Twitter, when the platform was banned nationwide. 
"It is requested that immediate action may be taken on the subject matter," the ministry directed the PTA chairman. Soon after, the PTA issued an official statement stating: "In order to maintain public order and safety, access to certain social media applications has been restricted temporarily."
Read more: PTA launches a new system to block lost and stolen phones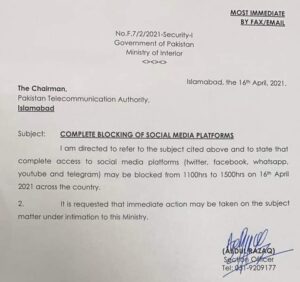 Complying with the interior ministry's directives, Nayatel, an internet service provider, informed in a message to its customers that social media platforms had been blocked on the instructions of the PTA. These social media platforms include Twitter, Facebook, WhatsApp, YouTube, TikTok, and Telegram. After 3 pm, users proclaimed that the social media platforms had been partly restored.
Moreover, the PTA also issued a statement declaring that access to social media platforms had been restored. Although the announcement made by the interior ministry did not specify a cause for the suspension, the development occurs after several days of turmoil in the country due to protests by the recently outlawed Tehreek-i-Labbaik Pakistan (TLP).
Read more: E-passport system to be introduced in Pakistan by June says Interior Minister
Furthermore, the Interior Minister Sheikh Rashid in a video message apologized to the public for the hours-long suspension of the applications, affirming that the government will not try not to restrict the social media applications in the future. He further stated that the social media platforms were blocked because the TLP had declared a call to its activists to come out on the roads for protests after Friday prayers.
Any coverage on the media regarding TLP has been banned. PEMRA – Pakistan Electronic Media Regulatory Authority, had implemented strict actions condoning the advertising of any news correlated to the actions of terrorism spread by Tehreek-e-Labbaik Pakistan (TLP). As the TLP has been in a three-day-long protest nationwide, disrupting the peace of Pakistan.
Image Source: GEO News