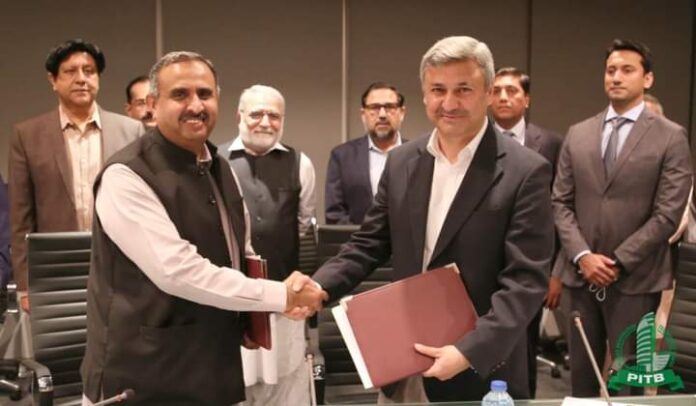 According to a recently issued official statement, Punjab Information Technology Board (PITB) has signed two separate digitization agreements with the Punjab Irrigation Department. These agreements intend to act on the implementation of an e-Procurement System and e-Library for the department.
The Signing of Digitization Agreements Was Hosted at Arfa Software Technology Park 
The signing ceremony was hosted at the Arfa Software Technology Park was directed by Punjab Irrigation Department Minister, Muhammad Mohsin Khan Leghari. Secretary Irrigation Punjab – Saif Anjum, Chairman PITB – Azfar Manzoor, Director IT – Muhammad Kashif Farooq, JD Citizen Contact Center (CCC) – Ali Zeb and other senior officials were also present at the occasion.
DG E-Governance Sajid Latif Signed the Digitization Agreements
Furthermore, DG e-Governance, Sajid Latif signed the digitization agreements on account of PITB while spokespeople of Punjab Irrigation Department, Chief Strategic Planning and Reform Unit (SPRU), M Amir Khan, and Senior Research Officer, Adnan Hassan, signed them on behalf of the e-procurement system and e-library individually.
PITB will Support in Digitizing the Entire Data of the Punjab Irrigation Department
As per these two digitization agreements, PITB will extend its support in digitizing the entire data of the department through an e-library initiative whereas, the e-procurement system will promote them by automating the hand-operated acquisition processes guaranteeing enhanced accountability, greater transparency, and better public service offering.
In addition to this, PITB has also developed an imported sugar tracking system, in collaboration with the Punjab Food Department. The system will help enhance transparency and ease of tracking from port dispatches to sales, according to the official statement.
Read more: PITB Introduces Pakistan's First Imported Sugar Tracking System
Source: Brecorder