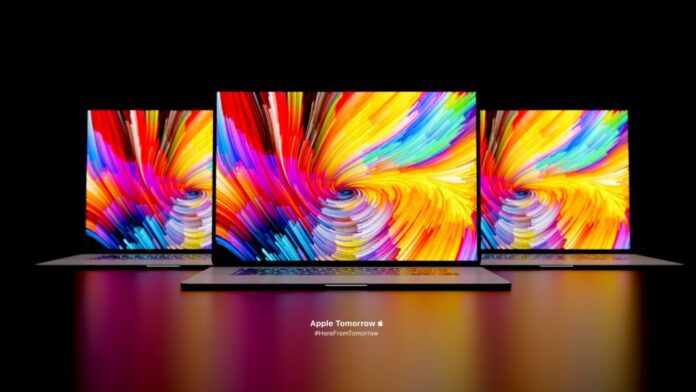 Tech giant, Apple at its Unleashed event announced Apple M1 Pro and M1 Max chips, two custom-built successor high-end processors to the original ‌M1‌ Apple silicon chip. The latest MacBook Pro computers are to be powered by the new chips, which can deliver up to 70% faster CPU performance than the ‌M1‌.
Apple M1 Pro and M1 Max chips Are a Threat to Intel's Chips 
The ‌Apple M1‌ Pro features up to 10 CPU cores, with eight high-performance and two energy-efficient cores. In terms of graphics, the ‌M1‌ Pro has a 16-core GPU, which is up to twice as robust as the ‌M1‌. It has up to 200GB/s of memory bandwidth, employing 33.7 billion transistors, and supports up to 32GB of consolidated memory.
Furthermore, the ‌Apple M1‌ Max builds on the ‌M1‌ Pro and starts by increasing the memory interface, delivering up to 400 GB/s memory bandwidth, and supports up to 64GB of unified memory with the incorporation of 57 billion transistors. It has a similar 10-core CPU, but a 32-core GPU that's up to seven times faster, and has a similar performance to discrete graphics while utilizing 70% less power.
The Latest Apple Chips Can Take Apple Silicon Even Further
"M1 has transformed our most popular systems with incredible performance, custom technologies, and industry-leading power efficiency. No one has ever applied a system-on-a-chip design to a pro system until today with M1 Pro and M1 Max," said Johny Srouji, Apple's senior vice president of Hardware Technologies. 
Read more: Apple Removes a Popular Quran App 'Quran Majeed' from the App Store in China
He further continued, "With massive gains in CPU and GPU performance, up to six times the memory bandwidth, a new media engine with ProRes accelerators, and other advanced technologies, M1 Pro and M1 Max take Apple silicon even further, and are unlike anything else in a pro notebook."
Upcoming MacBook Pro Models Are to Feature 1080p Webcam
In addition to this, there are reports regarding a significant upgrade in terms of the webcam as the upcoming MacBook Pro models are supposed to feature a 1080p webcam. It is further stated that both base models will come with a similar configuration and M1X chipset. 
The latest Apple computers are likely to be shipped with a new charging brick as the MacBook Pros are expected to have a new MagSafe charging port. Moreover, as for the pricing, the report mentions that the pricing of the upcoming MacBook Pro models will be similar to how the laptops are generally priced right now.
Source: Cnet