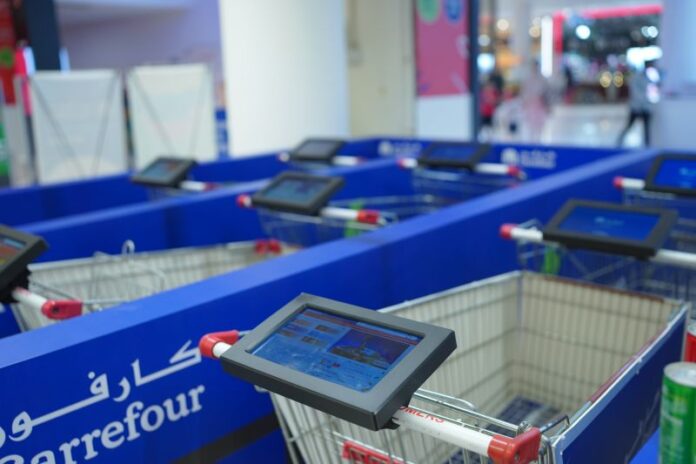 CalCart Technologies has brought forth a recent technological advancement in Pakistan's retail industry by launching the country's first smart grocery cart. This AI-powered innovation combines the convenience of online shopping with the traditional in-store experience, promising to enhance the way people shop for groceries.
Convenience Redefined with Smart Grocery Cart
CalCart's smart grocery cart offers shoppers a seamless shopping experience like never before. The cart comes equipped with advanced scanning capabilities, allowing customers to scan items as they put them in the cart. This feature simplifies the checkout process, eliminating the need for standing in long queues and waiting for billing. Shoppers can now breeze through the store, scan their desired items, and complete their purchase in a fraction of the time.
The collaboration with MAF Carrefour, a prominent global supermarket chain, is a clear indicator of the potential impact of digitizing traditional brick-and-mortar retail. By integrating cutting-edge technology with the conventional shopping experience, CalCart Technologies has set a new standard for grocery shopping in Pakistan.
Personalized Shopping with AI-driven Promotions
One of the standout features of the CalCart smart grocery cart is its ability to offer personalized promotions based on individual preferences. Using sophisticated AI algorithms, the cart tailors exclusive deals and discounts based on the shopper's purchasing history and preferences. This approach makes shopping more rewarding, ensuring that customers get access to offers that align with their interests and needs.
Moreover, the smart cart boasts an in-store navigation system, allowing shoppers to easily find their way around the store. No more wandering aimlessly through aisles searching for items; the smart cart guides customers to their desired products efficiently, saving time and effort.
Also read: Amazon's Under Development Smart Fridge to Track what's Inside