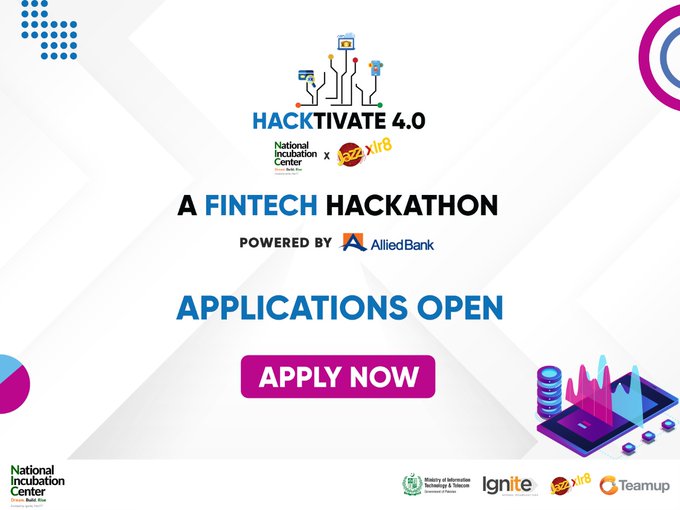 The NIC (National Incubation Centre) has made an official announcement on Twitter to host a hackathon based on Fintech titled "Hacktivate 4.0", which will be conducted on the 10th and 11th of April 2021. 
As stated in the previous news, this time NIC has collaborated with Allied Bank to organize this competition. "We are extremely happy to initiate this collaboration and future prospects from this partnership are bright. Initiatives like these can be a game-changer for the Pakistan entrepreneurial ecosystem, and we are keen to explore new avenues for collaboration between the two parties," Zouhair Khaliq, co-founder, Teamup (managing NIC), stated. 
"The signing of MoU is a great milestone for both organizations and I strongly believe it will accelerate the growth of Fintech start-ups in the country. We look forward to sharing our knowledge and expertise with young innovators and hope our offerings will provide them a platform to grow and scale their company," said Sohail Aziz, Chief Digital Offer, ABL.
As per the information released, the two-day event will focus on exploring new practical solutions for the difficulties encountered by the financial sector in Pakistan and expand the implementation of technology in Finance by promoting innovation and collaboration.
The Hackathon will consist of 7 thematic areas, including the following:
1. Banking
 2. Insurance
 3. Asset Management
 4. Cross-industry Propositions
 5. Digital Infrastructure Financing
 6. Alternate Funding Channels
 7. Green Finance
Pakistan's fintech industry has been striving steadily with startups and payment solutions frequently acquiring substantial seed funding from local and international VCs. Moreover, government institutions such as the National Incubation Center (NIC), Pakistan Software Export Board (PSEB), and National Information Technology Board (NITB) and the public-private partnerships have also played a vital role in promoting the tech industry in Pakistan.
Read more: Strict actions taken by the FBR affects the hard-earned money of the freelancers