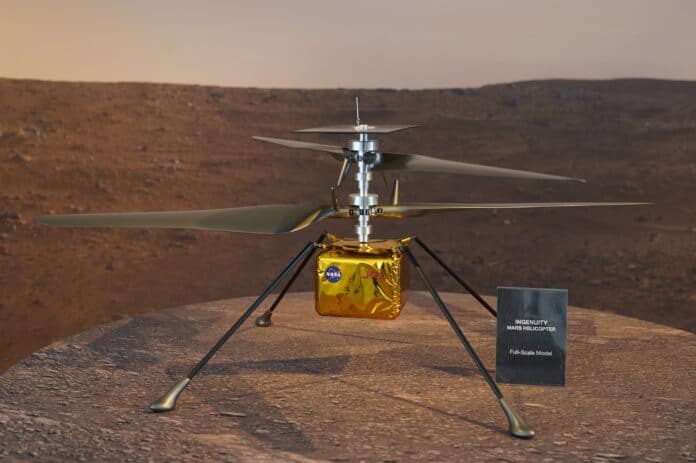 NASA's helicopter named Ingenuity is all set to attempt its first flight. The first-ever powered flight will take place on Mars today at 12:30 PM PKT.
The helicopter is said to be the first-ever aircraft that will fly try to ascend 10 feet above the ground while hovering for nearly 30 seconds. This historic moment will be covered by NASA's Perseverance.
On February 18th, 2021 the four-pound helicopter attached with the Perseverance landed. The helicopter's goal was to search for signs of ancient Martian life. The flight that will take place today is said to be 1 of 5 flights that are scheduled to take place in 31 days. If the first flight turns out to be successful the other four flights will take place within a specific timeline. This is not it other flights will also include the greater height and distant coverage.
Earlier on April'17, Nasa posted on its Twitter,
"Mars helicopter completed a full-speed spin test—an important milestone on our path to 1st flight. The team is reviewing all data before making a decision about a potential flight attempt in the coming week."
Also Read: NASA uses Cloud Computing to keep track of Perseverance Mars rover
People will also get a chance to observe this first attempt as the coverage will be live-streamed on NASA's YouTube, Facebook, Twitter, Twitch, and its official website around 3:15 PM Pakistan Standard Time (PKT). However, live video will take quite some time due to a long data delay between Earth and Mars. It is also said that engineers will be seen analyzing the data gradually in NASA's live stream. The data will be analyzed to see whether or not Ingenuity managed to make a successful attempt or not.
Image Source: Daily Sabah
Read More: 'NASA rules,' Musk tweets as SpaceX wins $2.9 billion contracts for a lunar lander