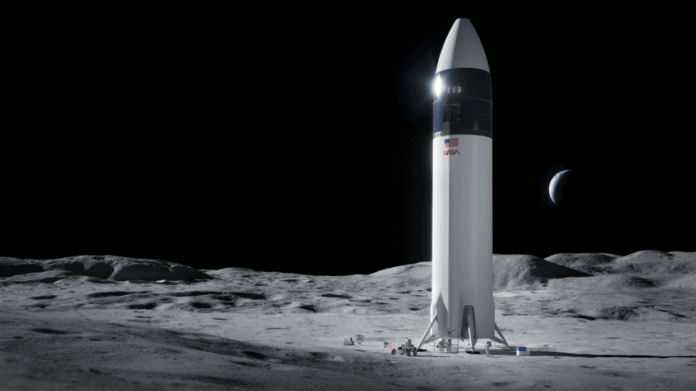 It has been reported that the US space agency, NASA has awarded the billionaire entrepreneur Elon Musk's space company 'SpaceX' a $2.9 billion contract to build a spacecraft. The spacecraft will be utilized to transport astronauts to the moon as early as 2024, as announced by the agency said on Friday, choosing it over Jeff Bezos' Blue Origin and defense contractor Dynetics Inc.
Jeff Bezos and Elon Musk are the world's first and third richest people respectively, as recorded by Forbes, they have been competing to lead humankind's return to the moon for the first time since 1972. Musk's SpaceX bid alone while the Amazon founder, Bezos's Blue Origin collaborated with Lockheed Martin Corp, Northrop Grumman Corp, and Draper.
Read more: Elon Musk-led SpaceX raises $1.16 billion in equity financing over two months
After the official announcement, Musk wrote on Twitter, "NASA Rules!!" NASA awarded the contract for the first commercial human lander, as part of its Artemis program. NASA has stated that the lander will transport two American astronauts to the surface of the moon. "We should accomplish the next landing as soon as possible," Steve Jurczyk, NASA's current administrator, said during the video conference announcement. "If they hit their milestones, we have a shot at 2024," Jurczyk added.
Read more: Elon Musk announces, people can now purchase Tesla cars using Bitcoin
NASA has further informed that SpaceX's Starship comprises a large cabin and two airlocks for astronaut moonwalks and that its structure is designated to evolve to a completely reusable launch and landing system intended for travel to the Moon, Mars, and other destinations in space. SpaceX also reacted on Twitter, stating, "We are humbled to help @NASAArtemis usher in a new era of human space exploration."
The said spacecraft is known as Starship, is also the linchpin of Musk's personal goal of landing the first humans on Mars. Test flights of early Starship prototypes have all ended in explosions so far, but the firm is quickly building new test vehicles. It can be concluded that Musk has become a one-person technology conglomerate, introducing or regulating companies pursuing space flight, electric cars, neural implants, and subterranean tunnel boring.
Source: Reuters
Image Source: Express Tribune