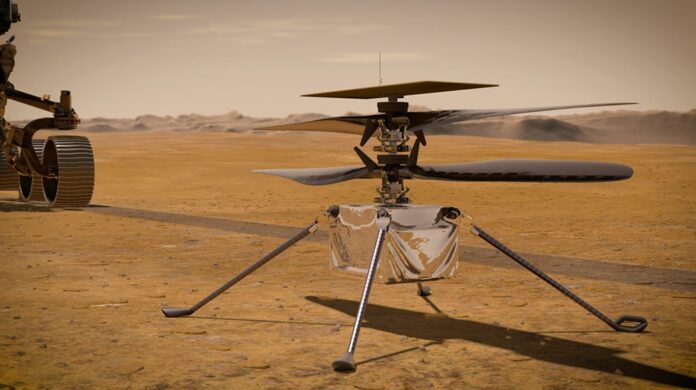 For the first time in aviation history the National Aeronautics and Space Administration NASA is about to land helicopter on Mars. If we put a glance on history, it has been 120 years when in 1903 group of engineers successfully managed a power flight on earth. This step is to be replicated by NASA, but on the other planet.
The four pound helicopter is about to attempt its first flight in another planets atmosphere. The helicopter is currently in the underside of NASA's Perseverance rover, which is accelerating towards the Red Planet and is expected to reach by February 18. NASA team expects the helicopter to overcome challenges that are the part of Mars planet.
The structure of the helicopter appears to be a box-like body paired up with  4 carbon-fiber blades connected to two separate rotors, also with the presence of two high quality cameras along with standard navigation. It will fly at altitudes of 3-5 meters (10-15 feet) and travel as far as 50 meters (160 feet) from its starting area and back.
"If the craft succeeds, it will provide crucial information for exploring the other planets by air"
The time period of each flight will be of a minute and half enough for team NASA to compute similar flight in future process. The upgraded versions would be much more efficient and will be consisting of those features that are currently not found in the present model. The first flight attempt test is to be done in spring 2021.
Image Source: Propakistani
Read More: Android users' data is at risk as suggested by the Alarming Report