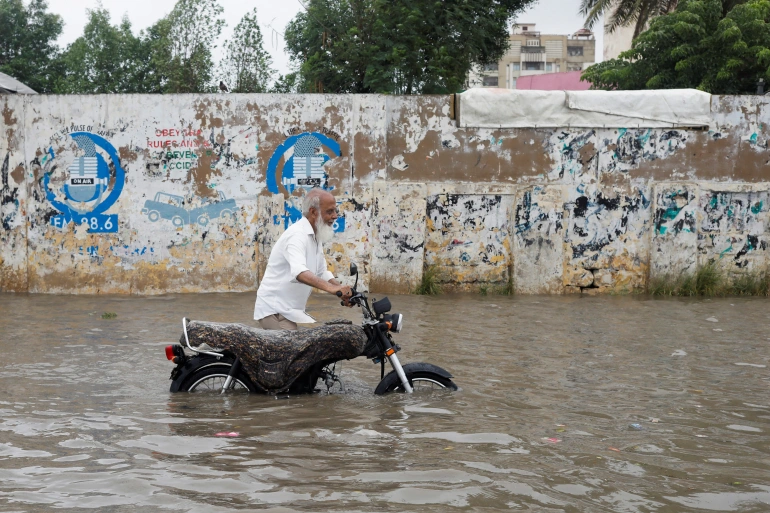 The incessant monsoon rains in Karachi have broken all the previous records. The provincial capital is set to cross the 1,000mm mark for the first time in its history. According to Pakistan Meteorological Department (PMD), Karachi will receive more torrential rain in September owing to which the metropolitan city will reach the 1,000 mm rainfall mark.
Record-breaking Monsoon Rains in Karachi
This year, monsoon rains have broken all the previous records in Karachi. The southern district of Karachi has alone received 800mm of rainfall while the Airport area has received more than 500 mm of rainfall breaking the 55-year-old record. In July, the Federal Minister for Climate Change, Senator Sherry Rehman, released a statement saying that the monsoon rains have broken 30-year-old records in Sindh and Balochistan. Sindh's second largest city, Hyderabad, is on red alert as the city is expected to receive as much as 200 millimeters of rainfall in this monsoon spell.
As per reports, Pakistan experienced 181% more rain than usual in July hence breaking the 61-year-old record. The annual national rainfall average is 63.1 mm. However, the country received 177.6 mm of rain, making it the wettest July since 1961. In July 2022, Balochistan received 450% more rain than average, Sindh 308%, Punjab 116%, Gilgit Baltistan 32%, and Khyber Pakhtunkhwa 30%. Owing to heavy rainfall,  Sindh Education Minister Sardar Ali Shah has announced that all government schools across Sindh will remain closed on Thursday.
Also read: Karachi Undergoes Another Heavy Monsoon Spell Causing Disruption Around the City
Climate Change is Real
Pakistan is ranked among the most climate-vulnerable countries in the world and the destruction caused by the recent monsoon season has proved it. Pakistan has received 87% heavier than the average downpour this year and the climate ministry has warned that the country should prepare for more flooding and damage to infrastructure as its glaciers continue to melt at an accelerated pace, causing flash floods. The torrential downpour has claimed many lives in the court RT due to drowning, electrocution, and roof collapsing incidents. The ongoing monsoon spells have also destroyed huge amounts of ready-to-reap crops across the country.