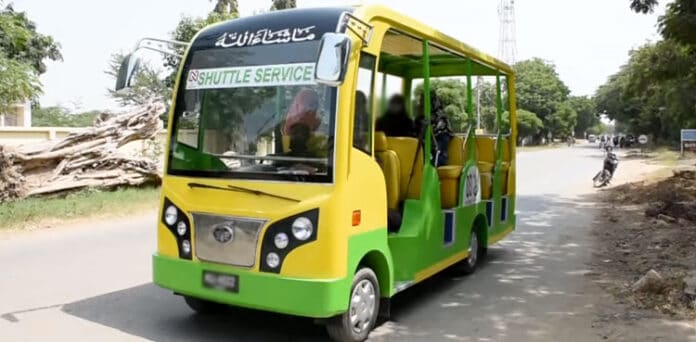 The University of Karachi launched an on-campus custom-built electric shuttle service to facilitate university students to move conveniently within the campus. The KU electric shuttle service will be available at all campus gates, the university has also allotted a designated parking area along with charging units.
KU Electric Shuttle Service to facilitate staff members and students
Karachi University signed the memorandum of understanding (MoU) with Nationwide Transport Services, NTS Logistics. The MoU was endorsed by the KU Vice-Chancellor, Professor Dr. Khalid Mahmood Iraqi, and the Chief Executive Officer NTS Logistics, Muhammad Umer Nouman at the VC Secretariat in April 2021.
According to the MOU, NTS Logistics has provided 6 to 23 seaters roofless electric commuting vans, four months after the signing of the MOU. Students, teachers, and administrative personnel would be allowed to use the eco-friendly transport with a regular price specified for the ride. The number of vehicles can be increased with time, as per demand.
This project will not only serve the faculty and students. But, it will also function as an eco-friendly measure to reduce the carbon imprint. The soot released from conventional vehicles tends to produce adverse effects on the environment and contributes to ozone layer depletion, which causes global warming.
Read more: Pakistan Rolls Out the First Electric Taxi in Islamabad for Northern Areas
Karachi's second eco-friendly transportation
Earlier in March, Sindh Transport Minister, Syed Owais Shah revealed Pakistan's first electric bus, which is operated between Tower and Sohrab Goth. The newly launched electric bus has a fare of Rs.4/km and the public transport runs seat to seat. The project started with a fleet of 10 buses but it is expected to increase by the end of the year.
Transport Minister Awais Qadir Shah, said that his unit has a plan to acquire 250 diesel hybrid electric buses under the Sindh Intra-District Peoples Bus Service project. He further added that the buses would operate in Karachi, Hyderabad, Sukkur, Larkana, Mirpurkhas, and Shaheed Benazirabad. For that, the transport and mass transit department had employed a competent consultant and the project is expected to cost around Rs.8 billion.
Source: ARY News