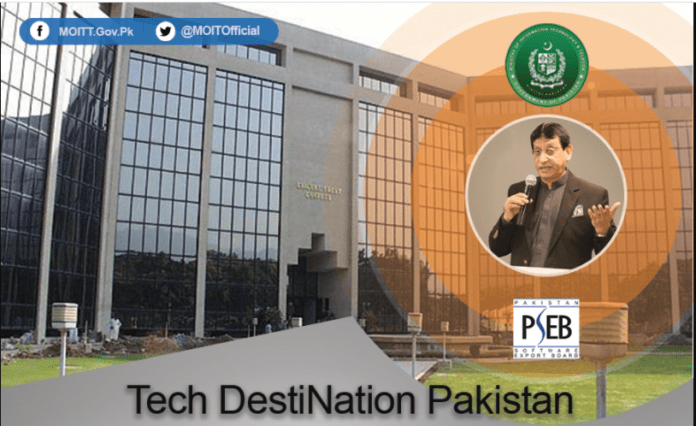 The Federal IT Minister, Syed Aminul Haque on Wednesday announced the launch of "Tech Destination Pakistan", an initiative taken by the Ministry to promote Pakistan's IT industry. 
In a recent tweet, the IT Minister provided with the aims this newly launched platform will present, such as training opportunities and facilities to IT companies while formulating incentives for foreign investors, as a number of projects are set to begin for the said matter. 
The Minister further discussed the exceptional performance exhibited by the Pakistan Software Export Board (PSEB), as their contributions relative to the IT exports and services have resulted in 40% additional revenue in the first six months of the current fiscal year.
He also stated that this improved performance has been recognized by the State Bank of Pakistan (SBP), displaying his confidence that the IT exports will traverse the target of $2 billion by the end of the current year. The most recent project is pivoted to be part of the government's Digital Pakistan initiative, for which the IT Ministry has allotted an impressive amount of 4.8 billion rupees.
It is pertinent to mention that the major IT-related projects being run under the direction of the Ministry of IT, comprises a network of 40 software technology parks in the works under public-private partnerships, the launch of 5G in the country, and a networking project in Gilgit for which the IT Ministry has allocated 1.5 billion rupees.
This is another initiative taken by the government in line with the Prime Minister's "Digital Pakistan Vision", as the idea was introduced in 2018 to support the IT industry by establishing a digital ecosystem. Since then, the government has initiated various initiatives to improve connectivity, enhance digital infrastructure, boost investment in digital skills, and encourage innovation and tech-related entrepreneurship.
Read more: MoITT is expected to raise the IT Taxation issue with FBR and Finance Ministry
Source: TechJuice