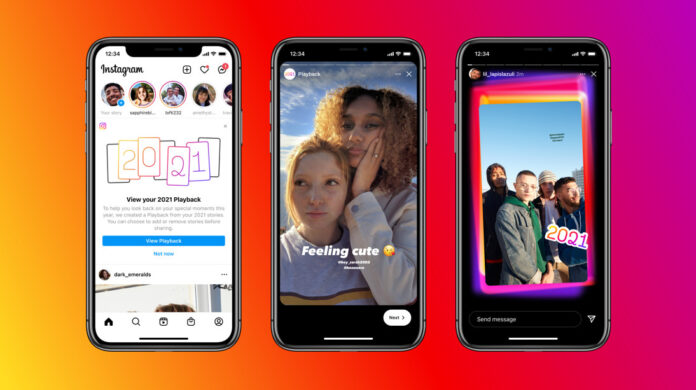 Instagram has jumped on the year-in-review bandwagon by launching a new feature, Playback. The Playback feature is created to help users reminisce the best moments of 2021. Instagram has confirmed that the Playback feature is launching today, and it will run for a few weeks ahead of the new year.
Read more: Instagram is Offering Bonus to Creators to Post Reels on its Platform
The Playback feature by Instagram
Instagram will share a customised Playback of 10 Stories for each user. But users can edit, add, or remove Stories from their Playback list via the Stories archive, which will pop up within Playback. Instagram feed will display a message inviting the users to create a Playback; in case they didn't see the message, users can tap the colourful "2021" sticker on any other user's 2021 Playback Story, which should allow you to build your own 2021 Playback from there.
To be eligible for this feature, users need to have posted more than three stories this year or have Stories Archive turned on. Additionally, Facebook also rolled out a Year-in-review feature. Users can share their personalised Year Together card, highlighting the friends, feelings, places and people that mattered most to them in 2021. The new feature is available globally starting today and will be accessible until December 30th. Facebook and Instagram join many other digital giants in sharing the popular feature by releasing their year-end versions.
How to use the new year-end feature on Instagram
1. Open up the Instagram app, and look for a 'View your 2021 Playback' tile that will appear at the top of your feed underneath stories.
2. Select the blue 'View Playback' button, and you'll see the 10 stories curated for you by Instagram.
3. Choose whether to add or remove individual stories before clicking Share. This will publish your 2021 highlights to your stories.
Source: Tech Crunch