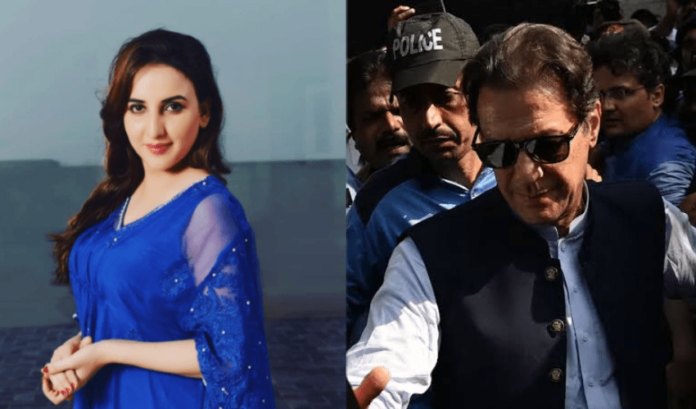 The arrest of PTI chairman Imran Khan has set the stage for a dramatic turn of events as TikToker Hareem Shah enters the fray with a controversial warning. Shah has threatened to release incriminating pictures and videos of various political figures if any attempts are made to detain Imran Khan. The digital landscape is now abuzz with curiosity and speculation surrounding the nature of the content she claims to possess, raising questions about its potential impact on the political environment.
Hareem Shah Issues a Stark Warning
As Imran Khan faces arrest in Lahore, Hareem Shah fearlessly took to social media to assert her position; her unequivocal message vowed to unleash a torrent of undisclosed content onto social media platforms if authorities proceed with apprehending the former Prime Minister. This audacious stance has injected an added layer of tension into an already charged political atmosphere, leaving many to ponder the consequences of her actions and the repercussions for those implicated.
The influencer's threat has intensified an already volatile political climate, with widespread speculation about the veracity of her claims and the potential ramifications of any leaked material. As the situation unfolds, the nation remains on edge, eagerly awaiting to see whether Hareem Shah will follow through on her warning and the potential impact it may have on political dynamics.
Imran Khan's Arrest Over Toshakhana Case
The timing of Hareem Shah's tweet aligns with Imran Khan's recent arrest in Lahore, linked to his involvement in the Toshakhana case. This development has sparked heated discussions and reactions across all levels of society, fueling further curiosity about any potential connections between Shah's threat and Khan's arrest. The incident has also sparked wider debates about the role of social media influencers in shaping public opinion and their impact on the reputations of prominent political figures.
Also read: Hareem Shah Threatens to Leak Rana Sanaullah's Videos If Internet Isn't Restored