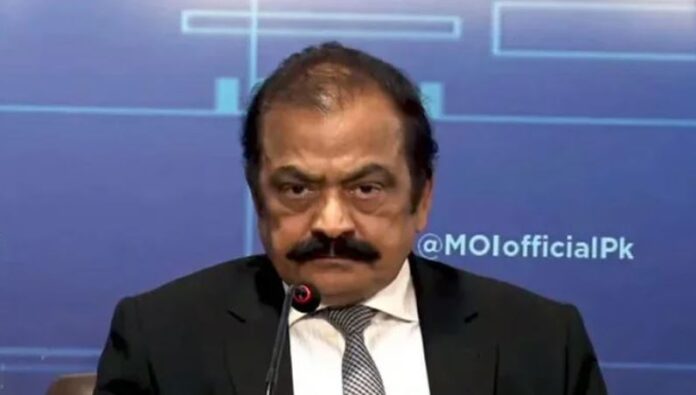 On Friday, Interior Minister Rana Sanaullah stated that the government has decided to launch a crackdown on those who slander people by sharing "improper and immoral content" on social media. Following the instruction of Prime Minister Shehbaz Sharif, people spreading immoral content on social media platforms will be arrested, he said.
سوشل میڈیا پر فحش اور غیراخلاقی وڈیوز سے لوگوں کو بدنام کرنے والوں کے خلاف کریک ڈاﺅن کرنے کا فیصلہ کیا ہے، غیراخلاقی مواد پھیلانے والوں کو گرفتارکریں گے۔ وزیراعظم نے ہدایت کی ہے کہ ایسے مواد کو برداشت نہ کیاجائے۔

— Rana SanaUllah Khan (@RanaSanaullahPK) May 6, 2022
We Will Not Allow People to Use Social Media to Humiliate Someone: Rana Sanaullah
Rana Sanaullah further continued that the premier has directed that such type of immoral content should not be tolerated. The government's announcement came following former prime minister Imran Khan's statement as he said that his opponents have "hired companies that are preparing for his character assassination. We will not allow people to use social media to humiliate someone," said the interior minister, Rana Sanaullah, adding that such incidents will be curbed wherein the material is used for blackmailing.
Now FIA Will Investigate the Postings of Immoral Content on Social Media 
In addition to this, the Interior Minister, Rana Sanaullah stated that the government will deal with those involved in a harsh manner. "We will wipe out those who spread this filth," said Sanaullah, adding that instructions have been sent to the Federal Investigation Agency (FIA) and relevant authorities in this regard to curb the immoral content postings on social media.
FIA Will Work with PTA to Take Action Against the Offenders
Moreover, according to sources, the FIA has also decided to contact the Pakistan Telecommunication Authority (PTA) to take action against the accounts spreading fake videos and posting defaming content on social media. As per the FIA, there are severe penalties for propaganda and defamation under the new social media laws. In the first phase, the FIA cybercrime wing has been tasked with identifying such social media IDs, after which the necessary action would be taken, including arrests.
Read more: Deepfake Videos Are Being Prepared for My Character Assassination: Imran Khan