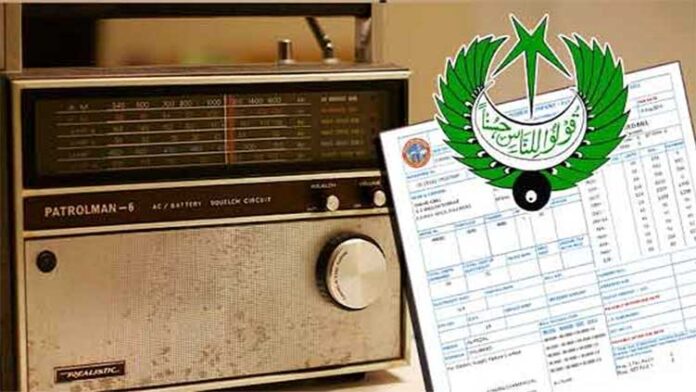 In order to strengthen the information and broadcasting sector, the government of Pakistan has decided to introduce TV and radio fees in electricity bills. During a meeting of the Standing Committee on Finance and Revenue, led by Senator Saleem Mandviwala, the decision was discussed and promptly implemented. This decision also aims to allocate funds for PTV charges and radio fees while also supporting important initiatives.
Immediate Implementation of TV and Radio Fees in Electricity Bills
The Finance Ministry officials presented the details of the new measure during the meeting. With immediate effect from July onwards, consumers will see a flat fee of Rs. 50 added to their electricity bills. Out of this amount, Rs. 35 will be designated for Pakistan Television (PTV) charges, while Rs. 15 will be allocated for radio fees. The Ministry of Information and Broadcasting prepared a summary to support this initiative, following the Senate Committee of Finance and Revenue recommendations.
For more than a decade, this issue has presented a persistent challenge. Back in February, a proposal was proposed to address the matter by introducing a separate "radio fee" of Rs. 500 for all vehicles except motorcycles during registration. The intention behind this proposal was to generate an annual additional revenue of Rs. 15 billion to provide financial support to Radio Pakistan. The proposal was discussed during a sub-committee meeting, which Irfan Siddiqui led from the ruling PML-N.
Allocation of Funds for Key Initiatives
Besides the introduction of TV and radio fees, the government has allocated funds for other crucial initiatives. Notably, an impressive sum of Rs. 35 billion has been earmarked for the provision of subsidized food items at Utility Stores. Within this allocation, Rs. 5 billion has been specifically set aside for the Prime Minister's Ramazan Relief Package, aimed at providing essential relief to vulnerable segments of the population during the holy month.
Additionally, the Finance Ministry officials shared the latest incentives for the IT sector. To promote digital literacy and accessibility, the government has allocated Rs. 10 billion for the Prime Minister's laptop scheme. Moreover, a significant development for tech companies comes in the form of permission to retain 25 percent of their export earnings. This measure is expected to encourage growth and innovation within the IT industry.
Also read: IT Ministry Implements 'One Room, One Light' Policy to Save Electricity