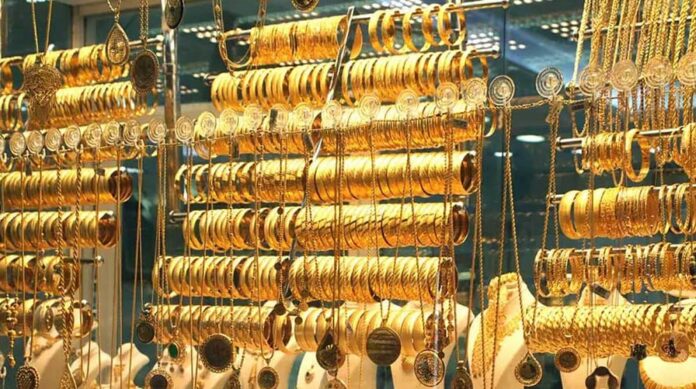 In yet another record-breaking turn of events, the gold price in Pakistan has soared to a new all-time high of Rs. 221,000 per tola, an increase of Rs. 1,500 per tola. The recent development came as the government expects headline inflation (CPI) to remain at an elevated level in the months to come.
Latest Gold Price in Pakistan
According to the data released by All-Pakistan Sarafa Gems and Jewellers Association (APSGJA), the price of gold (24 carats) went up by Rs. 1,500 per tola to Rs. 221,000 while the price of 10 grams went up by Rs. 1,286 to Rs. 189,472. Likewise, the price of gold (24 carats) had jumped by Rs. 800 per tola to Rs. 219,500 on Saturday. The price of gold increased by over Rs. 10,000 per tola during the month of April.
Gold is widely regarded as a safe haven for investors during times of economic uncertainty, and the latest increase in the price of the precious metal surge in price can be linked to a range of global economic factors as well, including the COVID-19 pandemic, inflation concerns, and economic issues. As such, the demand for gold has increased significantly, leading to an increase in its price. In the international market, the price of gold also went up yesterday with spot gold up 0.2 percent to $1,986.53 per ounce by 1241 GMT.
Investors' and Consumers' Reactions
The latest price hike has been met with mixed reactions from consumers and investors in Pakistan. While some are excited about the opportunity to sell their gold at a higher price, others are concerned about the impact on the economy and the rising cost of living. Despite the concerns, experts predict that the price of gold is likely to continue its upward trajectory in the coming months. As such, investors are advised to exercise caution and carefully consider their options before making any decisions regarding gold purchases or sales.
Also read: Gold Prices Soars to All-time High of Rs 204,100/tola After Rupee Tumbles to a New Low