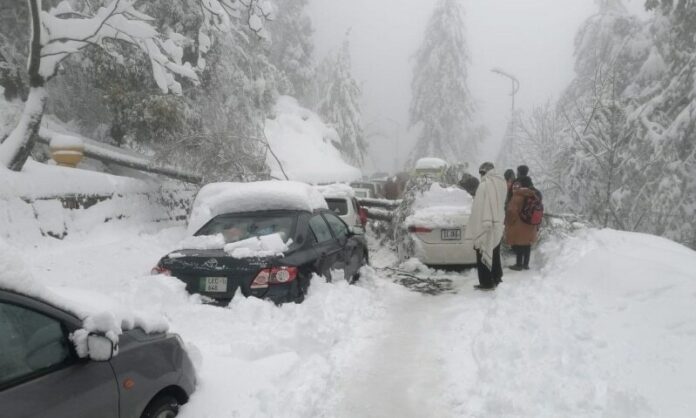 The first inquiry report on the Murree incident has come out, revealing administrative faults amid the flood of tourists at the hill station. According to the initial probe report, the main roadways of Murree hill station and its surrounding areas had been neglected for the previous two years, causing hindrance in the traffic flow owing to heavy snowfall. As per sources, there was no visitor parking plaza in Murree to cater to a huge influx of tourists.
Read more: PTA Announces Free On-net Calls For Tourists Stranded in Murree
The Murree Incident 
Last week, a record number of people traveled to the northern area of Pakistan to experience the snowfall. News reports quoting traffic authorities revealed that more than 155,000 vehicles entered Murree in the past week, out of which 135,000 returned safely but the rest became stranded.
Emergency workers and Pakistan Army troops rescued hundreds of people from cars while clearing all the main roads almost 36 hours after the deadly snowstorm hit the hill station of Murree. An official statement from ISPR reads; "All the main communication arteries of Murree and its vicinity on Sunday were cleared for all types of the move by the Pakistan Army engineers including the Kuldana, Barian Road." The Murree incident claimed 22 lives including women and children who died in their vehicles after being stuck in one of the worst snowstorms.
My Worst Experience: Eye-witness account of Murree's victim 
An 18-year-old tourist from Islamabad, Duaa Kashif Iqbal, told a local publication; "We didn't get any type of alert from society, from the government, from Google, from the news, from the weather." Another tourist, Kashif, said; "People here were literally weeping, when they heard the news of deaths" A tourist, namely; Ishaq, ditched three-stranded cars and hiked 1.5 kilometers (one mile) to where a guesthouse owner took them in. An Eleven-year-old Arosh Yasir, warming up by a gas fire with his family, said they spent the night in their car on Friday before being rescued the following morning.
According to Rawalpindi Commissioner Syed Gulzar Hussain Shah, at least 8,000 people have so far been evacuated from the snow-hit areas, adding that between 3,000 and 4,000 vehicles had been evacuated from the hill station. He said the district administration had made arrangements to provide fuel to travelers so they could make their way back.
Source: Dawn