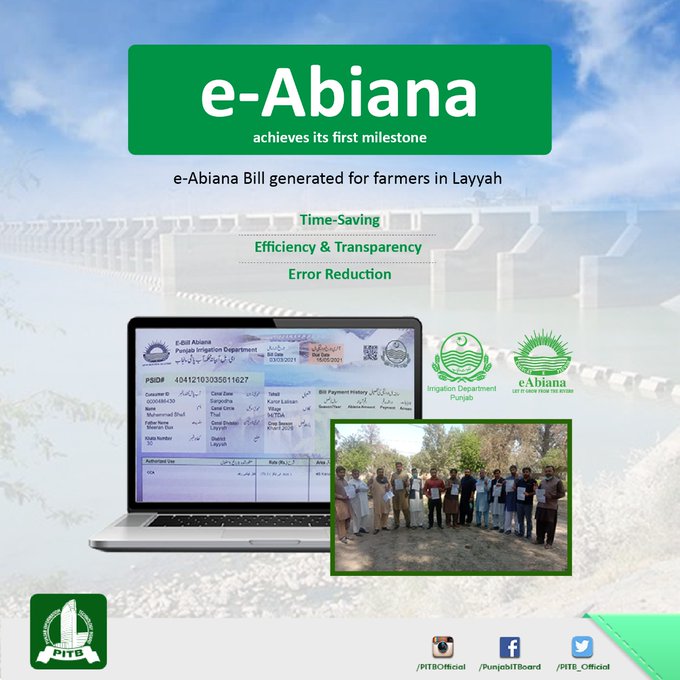 E-Abiana is a digital mechanism outcome after the collaboration between Punjab Irrigation Department and Punjab Information Technology Board (PITB). It has been formed for the mechanization and streamlining of the water revenue collection system.
The PITB, in a tweet, has informed, "The digitized bill ensures increased transparency & efficiency. Farmers will be able to pay Abiana via e-Pay Punjab, JazzCash, EasyPaisa, and Over the Counter (OTC) in banks."
Through this initiative, the farmers working in the agriculture sector all across the Punjab province can now easily clear the Abiana bills through the means of banks, ATMs, and mobile banking.
Read more: Twitter to ban Accounts those are spreading false information regarding Covid'19 Vaccine
At first, this digitized system was introduced in Kasur, Sheikhupura, Khanewal, and Layyah regions as a pilot program, but now the Govt plans to implement this method throughout the province of Punjab. The implementation of E-Abiana will not only bring ease and clarity of the collection of the payment but it would also lead to almost double revenue collection, as per the officials. Moreover, implementing E-Abiana and similar more solutions in other regions of the country will synchronize agricultural advancement and overall progress.
The Punjab Irrigation Minister Mohsin Khan Leghari has commented, "In Punjab alone, the calculated amount of Abiana (water tax) collected is almost PKR 4 billion per annum. The primary objective of e-Abiana is to develop a technology based solution to generate transparency for collecting Abiana from the farmers."
In the long run, developments like these can help the country to eliminate the extensive corruption that has endured for a long time due to the conventional and unethical government structures.
Source: TechJuice