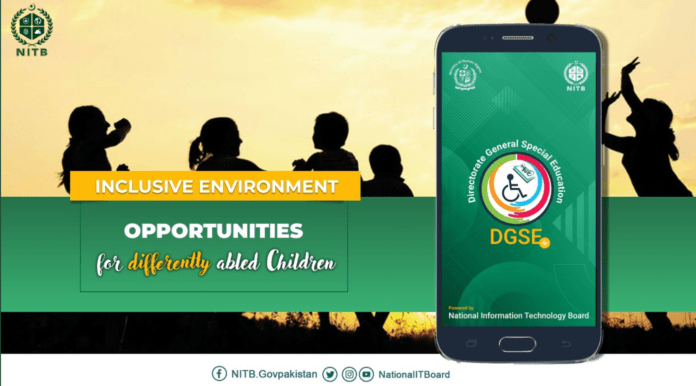 The National Information Technology Board (NITB) has recently posted a tweet announcing the launch of a smartphone application "DGSE" that centers on presenting opportunities for differently-abled children across Pakistan.
The app is aimed at generating consciousness among the people regarding the education, training, and recovery services available for children through various abilities centers and establishments that are operating under the DGSE.
Read more: Farmers of Punjab now pay their water bills digitally through E-Abiana
Therefore, the government has taken measures like these to support all children to flourish and to secure a bright prospect for the country. The developed app which is presented by NITB will acquaint the parents and the guardians about the facilities obtainable in the DGSE's centers including the FDE schools for comprehensive education. It will support them in the selection of appropriate educational institutions near to their area of residing. 
Through this app, the people of distant areas in Islamabad Capital Territory can acquire essential information regarding online enrollment and additional services possible under the Federal Directorate of Education. The children can also study online without physical access to institutions operating under the Directorate General of Special Education (DGSE).