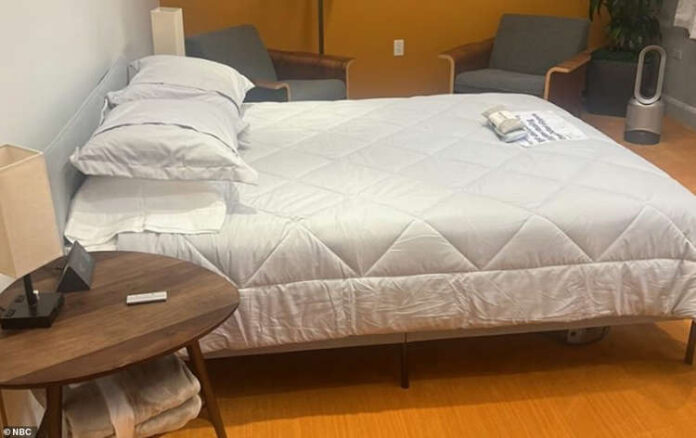 Chief Twit, Elon Musk, has reportedly turned Twitter HQ in San Francisco into makeshift motel rooms for the employees so they can stay in and be more productive. A leaked image shows Twitter's conference room turned into a bedroom with a double bed, closet, and a pair of slippers – just like home.
Makeshift Motel Rooms Issue is Currently Under Investigation
As per details, the makeshift motel rooms are reportedly labeled with names such as Dollarbird and Goldeneye, which operate on the reservation. Some rooms are furnished with a large bed, sheets, furniture, plants, and dual TV screens, while others have a simpler setup with a bed mattress, a corner desk, and a single TV.
The cleaning crew protested outside the Twitter office after their contracts ended; they were apparently shocked when bedrooms were installed. Martin Cerda, one of the protestors, said that the building is located in a commercial area; hence it's not allowed to have bedrooms. 'They were always behind you and you had to take out the trash, take everything off the bed and it was a lot of pressure having them there,' said Cerca.
Official Statement from the Law Enforcement
A complaint filed through San Francisco's 311 system reads, "Hello, several offices at Twitter have apparently been turned into motel rooms for workers to live in, contrary to code." The city's Department of Building Inspection said, "We are reaching out to building representatives so we can conduct a site inspection as part of our investigation. If we find that suite 900 no longer meets the building code, we'll issue a notice of violation." Patrick Hannan, the communications director with the SF Department of Building Inspection, said, "These codes make sure people are using spaces safely. Everyone in San Francisco deserves a safe place to live, work, play and sleep and no one is above the law."
Also read: Elon Musk Bans Work from Home Policy; Warn Employees of Dire Consequences